Share:
Swing Control
-Ladies Golf Apparel for Spring 2021
By David Theoret
Swing Control, the Canadian Women's golf apparel company that is best known for their slimming tummy control exceptional quality, styling, and fit has introduced several new products across their entire spectrum for the 2021 Spring golf season. Nothing flashy, simply good looking, high quality apparel that makes a lady look and feel her best.

Women across the US and Canada have been enjoying Swing Control's golf apparel for years. All of their garments feature Swing Control's 3" Tummy Control Waistband for a great slimming effect. One of the newest additions to this spring's lineup is The Stripe Masters Crop Pant are sewn from Swing Control's Jacquard stretch techno fabric that provides a little extra stretch and the 24" inseam is the perfect crop pant length. Two front and two back pockets provide ample storage and the striped fabric and cuffs at the bottom add a classy touch. They are available in sizes 00 - 16 and in either Black/White or Green/White.

For that "formal" look on the golf course, check out Swing Control's Tuxeudo Masters Ankle Pant. Not only do these pants have all the technology you'd come to expect from Swing Control, but the solid stretch techno fabric also moves with you through your entire golf swing and the 4 pockets provide ample storage. But what creates the formal look is the tuxedo stripe on the side. The Tuxeudo Master Ankle Pant is available in sizes 00 - 16 and in Black with a White Stripe.

Swing Control is more than a great looking and functional shorts and skirts. Their Ruffle Wrap Skort is sewn for their solid stretch techno fabric with cotton undershorts sewn into them and 4 pockets that provide ample storage. What separates this skort from others is the ruffle detail on the front. Swing Control's Ruffle Wrap Skort is available in sizes 00 - 16 and in ether Hawaiian Surf or Lime.

The Cube Masters Shorts are sewn from the company's printed stretch techno fabric and feature a 10" inseam with four pockets for all of your golf necessities. But it's the Black and White cubed print that sets these shorts apart and creates a real eye-catching design. They are available in sizes 00 - 16.

The Eyelet Masters Shorts have a 13" inseam and are sewn from a stretch techno fabric that moves with you through your golf swing and the two front and two back pockets provide ample storage for all of your golf necessities. The eyelet and lacing detail on the legs add a nice feminine touch. These shorts are available in sizes 00 - 16 and in several colors including Black, White, Stone, New Red, and Marina.

This is just a small sample of what Swing Control has instore for the ladies this spring. You can see their entire lineup at www.swingcontrol.com.

Article Tags: Swing Control Golf apparel, Swing Control, Golf pants, Women's golf pants, golf skort, golf Shorts
Revised: 06/25/2021 - Article Viewed 511 Times
About: David Theoret
---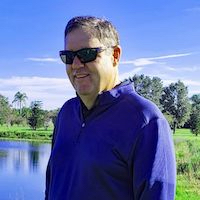 David Theoret has been in the golf and golf travel industry for over 10 years, primarily selling online advertising. For the past seven years, he has also been a golf writer, reviewing golf courses, resorts, destinations, equipment, golf apparel, and training aids - the latter of which never seems to help. David's articles and reviews have been posted on many golf travel and equipment websites.

Growing up in Southwestern Ontario, Canada, it was naturally assumed he would play hockey. Beginning at the age of 3 and continuing into his late 30's, he did just that. However, after one too many pucks to the head, he realized that golf was a lot easier on the body (whoever said hockey players were slow) and took the game up.

After moving to Florida and accepting a position with TravelGolf Media (now part of GolfNow) his love for the game grew exponentially. Most Saturdays you will find him on a course somewhere in Florida or on the practice range reinforcing his bad habits. David plays to a 10 handicap - unless there is money involved in which case it goes considerably higher. He currently resides in Lakeland, FL with his wife Belinda and their two "kids", Madyson and Molly.

---
More Articles by David Theoret
More Related Articles