Share: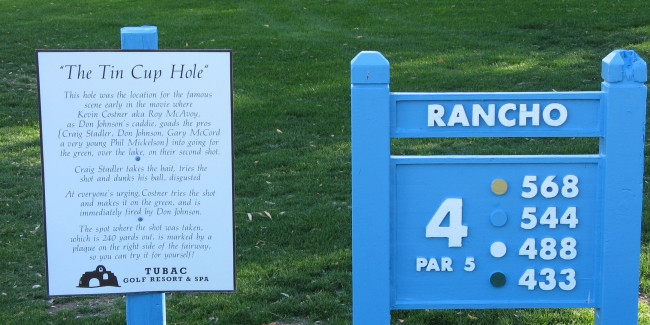 Two-fer Tucson
By Greg Miles
Tucson, Arizona, famous for its fantastic golf climate, 340 days of sunshine and less than 12 inches total annual rainfall, and fabulous private courses like The Gallery, La Paloma Country Club, and Stone Canyon Club, could be the pure essence of "desert golf." But when is golf in the desert not typical "desert golf?" Take away the A, B, C, & D's: arroyos, barrancas, cacti, and dollars (or should I say dinero), that define desert golf and Tucson can offer up a number of fine courses whose answer is that 'we're located in the desert, but we're not a typical desert course, and we're affordable'. Two such Tucson area choices are Dell Urich GC and Tubac Golf Resort; both are open to the public.

The Dell Urich Golf Course is one of two 18-hole, regulation length courses offered at the Randolph Golf facility on Alvernon Way in central in Tucson; Dell Urich and sister course Randolph-North are two of the five courses comprising the public Tucson City Golf Group. Dell Urich, originally known as Randolph-South, was designed by the legendary William F. "Billy" Bell and opened in 1961. The course underwent extensive renovation and got its new name in 1996, along with a new clubhouse; the renovation architect was Ken Kavanaugh. Overall, the Dell Urich Course is a player-friendly, parkland style layout with tree-lined fairways, and is devoid of the desert hazards that gobble up errant shots. Dell Urich features large, undulating greens. Evolving from a parcel of land that had only a 1% elevation grade change, this still relatively flat course, nonetheless, now offers elevation changes that are scenic and beneficial to the golfers, as Dell Urich's longer holes tend to play downhill; Dell Urich is easily walkable. Two water hazards bring water into play on five holes. Dell Urich's 17th hole is its signature hole and one of the toughest short par-3s in the Tucson area. It plays at just 137 yards, but the tee shot is into a prevailing headwind; water surrounds the front and right side of the green and a shallow bunker and trees stand guard on the left, making it play almost like an island green. Not surprisingly, this is one of Tucson's more memorable holes. Playing to a par of 70, Dell Urich's four sets of tees and ratings are: 6629/70.2/123; 6121/67.4/115; 5777/66.4/124; (L) 5257/69.3/116. The slogan for Dell Urich, along with the other Tucson City courses is "Play more, pay less."

Tubac Golf Resort is located 35 miles south of Tucson International Airport and 20 miles north of Nogales, Mexico, adjacent to the historic Village of Tubac, Arizona. Tubac Golf Resort features three 9-hole courses, and in a one-word review, Tubac is "fun." Perhaps this summarization begins with the fact that the hilarious scene from the movie 'Tin Cup' was filmed on the Tubac Rancho-9's number 4 hole, a lengthy par-5 hole where Roy McAvoy (Kevin Costner), the caddie for David Simms (Don Johnson), goads other professional golfers into attempting to hit a fairway shot from outside of 240 yards over water to the green. Secondly, Tubac is a non-desert course situated in the desert county, Santa Cruz, in far southern Arizona; it, too, is devoid of the desert hazards that gobble up errant shots. Even before hitting your first tee shot on any of the nine's at Tubac, reading the local rule about cowpies at Tubac will bring a chuckle to the entire foursome: for shots coming to rest / embedded in a cowpie there is a 'pick, lick, and place' provision without penalty. Other fun-filled amenities at Tubac include tennis, swimming, salon and spa featuring sauna, steam room, and the co-ed Jacuzzi with a warm desert backdrop. Lodging is available with 98 rooms and suites including 52 Haciendas, 20 Casitas, and 26 Posadas. Tubac's food services offer two restaurants, the Stables Ranch Grille and the Apache Room and Patio; both are open for breakfast, lunch, and dinner. Room service is available from 7 am to 10 pm daily.

The resort opened in 1959, on land, which centuries ago was the homestead and cattle ranch of the Otero family. Tubac's initial golf routing featured 18 holes designed by famed architect Red Lawrence. In 2003, Tubac renovated the original holes and added 9 more; this project was designed by Ken Kavanaugh. The course renovation recaptured the relaxed, countryside ambiance of the Otero Ranch. The course spans both sides of the Santa Cruz River offering diverse elevations, challenges and spectacular views. Split rail fencing meanders throughout defining cart paths and fairways while cattle graze lazily along the river's banks. All three 9's offer five tee boxes to meet every golfer's ability. Course rating and slopes range from 72.5/133 to 66.1/115. The fairways are Bermuda grass (overseeded with winter rye in fall); greens are bent grass. The Anza-9 finishes with a short, but treacherous, par 3 island green. This hole could be the final hole of the round, making it additionally important. Owing to its placement in the round, and location on the property, players failing to reach the green risk the ridicule of fellow golfers, as well as that of the resident cows and nearby spectators enjoying the always popular patio at Stables Bar. From start to finish Tubac is fun!

Revised: 01/03/2014 - Article Viewed 22,440 Times
About: Greg Miles
---

Greg Miles is Senior Writer for GolfChicago! Magazine and resides in Lake County, IL. He has been a golf writer for 21 years, and a member of the Golf Writers Association of America for the past 17 years. A graduate of the University of Notre Dame and Marquette University, he has played more than 5,500 rounds of golf in his life at 462 different courses; enjoys collecting golf memorabilia and is a Golf Nut Society member.
---
More Articles by Greg Miles