Share:
---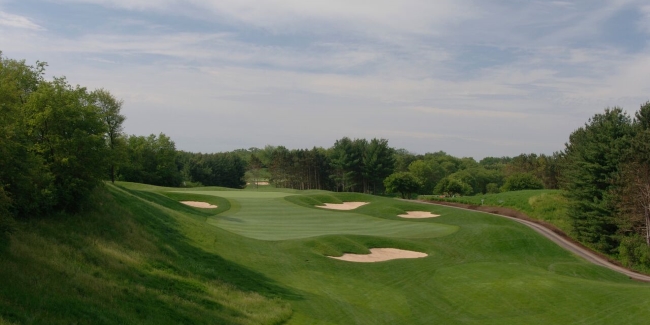 Grand Geneva Resort & Spa is All-Season Family Experience
Life is Grand
By Jerry Slaske
The 'grand' in Grand Geneva Resort & Spa is no exaggeration.

The former Playboy Club and then Americana Resort was almost left for dead back in the early 1990s, but under the ownership of Milwaukee-based Marcus Corporation, it has come roaring back to become one of the Midwest's finest all-season entertainment experiences for the whole family. Moreover, with its two meticulously groomed championship golf courses, The Brute and The Highlands, Grand Geneva fits in well with Wisconsin's burgeoning recognition as an international golf mecca.

Located in Lake Geneva, 45 miles southwest of Milwaukee, the resort provides everything from carriage rides and horseback riding to zip-lining to massages to indoor tennis and basketball to snow skiing and boarding to rock climbing to...you get the picture, a self-contained family playground.

But if you must leave the property, downtown Lake Geneva is about a mile away on beautiful and historic...you guessed it...Lake Geneva. It's a hoppin' place made for walking, with dozens of small shops and cafes to explore. You can also climb aboard an early 20th century steamer for a cruise to view the spectacular summer homes (palatial estates to the rest of us) of some of Chicago's early industrialists. And if you want to see the stars, take a tour of the famous and fascinating Yerkes Observatory on the southwest side of the lake.

Grand Geneva's just-under 400-room hotel is a sprawling, four-story Frank Lloyd Wright type of building that runs about 3/10 of a mile. It's easy to get lost in this place and thank God you can park near your room. But since I like to walk, I enjoyed it. The hotel's expansive and open lobby sits high above the 1,300-acre property, and the vista from the outdoor pool and the top-shelf restaurants is mesmerizing and, some might say, romantic.

My roomy and comfortable junior suite was on the 1st floor with a patio along the fairway of the Brute's 18th hole. It had a fireplace and two large-screen TVs, plus a TV in the bathroom mirror (kind of like a holograph). I'm not one to watch TV while taking care of 'business', but you can, no pun intended. Also, I'm not easy to please when it comes to beds because of a back issue, but this one put me in a trance.

Catering to 350-400 golf outings (12 or more players) annually...amazing, considering Wisconsin's relatively short golf season...the resort's two courses couldn't be more different, each with its own challenges.

The Brute is...well, a brute. It's long with large and undulating greens (avg. green size 8,000 sq. ft.), 68 yawning bunkers, and significant elevation changes. No's. 17 (par 4, 420 yards from the tips) & 18 (par 4, 464 yards from the tips) probably are its signature holes: #17 a slight dogleg right from an elevated tee along and over water; #18 a straight monster with bunkers down the right side with water, also on the right, the entire length of the hole.

The Highlands is shorter with smaller and flatter greens, but has more trees, hollows, and twists and turns. Every hole is picturesque from the tee, and there are several par 4s that might be drivable for the bigger hitters from the blue tees. PGA Professional Kyle Kunash says the par 4, 461 yard (from the tips), #9 is the toughest hole on the property, and I agree. It's a double dogleg from an elevated tee through a hollow to an elevated green.

Despite the stellar facilities, I judge golf courses and resorts in large part based on the people who work there, and these folks take great pride in what they do and how their guests are treated.

There's nothing better than Wisconsin hospitality and value, and that's why you see so many Illinois plates at the Grand Geneva. Other states can boast of a lot of things, but you've got to come to Wisconsin for a Grand time.

Revised: 06/23/2015 - Article Viewed 21,606 Times - View Golf Course Profile
Share Comment
Written By: Jerry Slaske

KEY Milwaukee is a tradition in Wisconsin's largest city. As the leading visitor guide in Southeastern Wisconsin, we're distributed in hotels, motels, restaurants and visitor centers throughout the metropolitan area, beginning at the Illinois-Wisconsin border.