Share:
---
Arccos GPS and Stat Tracking System
Your Game at a Glance
By David Theoret
The latest boom in golf technology seems to be aimed at helping the serious golfer fix his game himself; after all, most of us don't have our very own swing guru on speed dial. The new Arccos GPS and Stat Tracking System is the first fully automatic, live shot tracking system that lets you 'replay" your shots as you make your way around the course, providing insight into your game swing by swing. Oh, and it provides real-time GPS as well.

With Arccos' proprietary Tour Analytics platform, your statistics are analyzed as you play, giving you a better idea of what you're doing right and what you need to work on. In theory, this leads to better mental decisions during your round.

The wealth of information that Arccos delivers is incredible. Stats like club distances and averages, fairways hit (or not), greens in regulations (or not) and putting statistics. You'll also find it helpful with information on things like sand saves and up and downs.

Usually with this type of technology, using it is easy, it's the setup that's time consuming. Not so with Arccos. The Arccos GPS and Stat Tracking System comes with enough sensors to outfit your entire set, provided you don't carry too many clubs. Simply screw the sensor into the appropriate club (they are tagged and identified on each sensor). Pair each club via Bluetooth with your phone and download the Arccos app - either Android or Apple, if it's a 4S or newer. Now you should be good to go.

The Arccos GPS and Stat Tracking System offers a couple of major advantages over its biggest competitor. The first is a built-in GPS system that gives accurate measurements to the front, middle and back of the green. The second and biggest for me is the fact that you don't have to tap the sensor to the tracker before each shot. As Ron Popeil once said: "Just set it and forget it." The Arccos System is pretty accurate at recording your actual swings and in the rare event it does record an extra stroke, they are easily deleted when you review your round.

Here are some of the Pros and Cons I found with Arccos. First, the good. Arccos doesn't just record all your stats and spit the data back out at you. It massages the data and can even make each stat more meaningful by creating different handicaps for each part of your game, whether it's driving, approach shots, chipping, bunker play, or putting. Because these handicaps are relevant to your overall handicap, you'll know what needs work now and what can wait.

Arccos is also great at detecting short putts, although if you take a gimme, pick up the ball and walk away, it's not going to detect that. The system is also reliable when it comes to differentiating between a practice swing and a real shot; just don't take it on the range or you may put it into cardiac arrest!

As far as negative aspects, they are minor. The first is that each sensor requires a battery. Although it's an inexpensive standard watch cell battery (CR 2032), having it die near the end of your round will void the whole day. It also places a higher drain on your cell phone battery which could be the more critical of the two. The manual says each battery should last about 50 rounds; replace after 40 and this won't be an issue. If you're like many, 50 rounds can easily be a year, especially in northern climates.

Secondly, editing the Web Dashboard can only be done from a phone, not a desktop or laptop and lastly there are no extra sensors. Lose one or have one stop working and you're dead in the water, however Arccos' Customer Service Department can be very helpful with getting one or two replaced quickly.

As far as the Arccos app is concerned, it is an excellent golf GPS app. It provides an overhead view of the course and gives you the ability to touch any point on the map and determine the distance to that point and then the distance from that point to the center of the green. As you make your way down the hole towards the green (presumably), Arccos will add your shots to the map of the hole, showing you how far and where each shot went and the club you used to get it there. It will automatically track your score during your round. There are over 16,000 US courses loaded into the Arccos database and the company recommends downloading the one you are playing before your round. Then it's as simple as opening the app and teeing off. And recently, the new Arccos Restricted app was approved for tournament play.

All in all, the Arccos GPS and Stat Tracking System is not only fun to use but useful in helping you improve your game. For more information or to order one online Currently, the retail price on the Arccos website is $299, but do a little looking online and you can save some money. For more information, be sure to check out their website at www.arccosgolf.com.


Revised: 10/26/2016 - Article Viewed 18,544 Times
Share Comment
Written By: David Theoret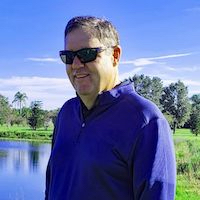 David Theoret has been in the golf and golf travel industry for over 10 years, primarily selling online advertising. For the past seven years, he has also been a golf writer, reviewing golf courses, resorts, destinations, equipment, golf apparel, and training aids - the latter of which never seems to help. David's articles and reviews have been posted on many golf travel and equipment websites.

Growing up in Southwestern Ontario, Canada, it was naturally assumed he would play hockey. Beginning at the age of 3 and continuing into his late 30's, he did just that. However, after one too many pucks to the head, he realized that golf was a lot easier on the body (whoever said hockey players were slow) and took the game up.

After moving to Florida and accepting a position with TravelGolf Media (now part of GolfNow) his love for the game grew exponentially. Most Saturdays you will find him on a course somewhere in Florida or on the practice range reinforcing his bad habits. David plays to a 10 handicap - unless there is money involved in which case it goes considerably higher. He currently resides in Lakeland, FL with his wife Belinda and their two "kids", Madyson and Molly.