Share:
---
Forest Lake Golf Club Review
Just You, Nature and That Little White Ball
By David Theoret
As Florida golf courses go, Forest Lake is an anomaly. Oh sure, it has all the trappings of your typical Florida daily fee golf facility: pristine, natural lakes, a wide variety of Florida flora and fauna, gently rolling fairways and large undulating greens. But what sets Forest Lake apart from other courses in the Orlando area is the homes - or in this case, the lack thereof. It is a true Parkland golf experience.

Forest Lake is located in Ocoee, FL, and sits on over 218 acres of Central Florida's ridge area, which provided the golf course design firm of Clifton, Ezell and Clifton tons of superb sandy loam. The course also sits atop the City's effluent disposal field, giving them adequate access to water for irrigation, a precious commodity in the Florida golf industry. Also, the course drains very well, so you just might find yourself being able to get out and play a round of golf here, while other courses remain closed after inclement weather.

The course opened in 1994 and has been rated 4-Stars by Golf Digest in their Places to Play. Forest Lake features five sets of tees, setting up a playable yardage for all golfers, from seasoned professionals to beginners. From the back tees, the course measures 7,221 yards with a slope of 133. Most golfers will find that the Blue Tees (6387 yards/126 slope) will provide all the golf course they can handle and still leave with a little dignity. Ladies will be challenged from the Red Tees which measure 5065 yards with a slope rating of 117.

Forest Lake boasts a pretty impressive practice facility. There's a full length driving range where you can hit every club in the bag, a chipping area with "blast" bunker and a large practice putting green. On our visit, the range was packed with players of all ages and abilities.

Lush, rolling fairways are generous off the tees and give way to large, undulating greens that can be hard to read for a first-time player, as I experienced. They may not be the quickest in the area, but they roll true and are consistent from hole to hole. The more you play them, the better you're going to do.
The front side has some modest roll to it and the first hole demands an accurate tee shot between a couple of lakes, but from there the hole opens up. For most players it's a three-shot par 5, however with a great tee shot, the green is reachable. Sand guards the front left side of the green with large mounding protecting the right front.

The par 3 holes out here are very challenging; from the back tees: you won't find one less than 210 yards. The second hole is the only one without water and features a very long and deceptive tiered green. Anyone who feels that par 3s are the easiest holes on a golf course needs to book a round on Forest Lake!

Holes 3-7 are situated on the western side of the 429 Expressway; you get there by taking the tunnel underneath the road. Like most of the holes they are tree lined; you better have control of your irons if you're going to score well over here. The seventh hole is the shortest par 4 and, depending on the tee placement could be in reach for big hitters. The green is protected by a deep greenside bunker.

If your tendency is to hit the ball left, number 9 could prove to be a bit of a problem. It's a 405-yard (Blue Tees) par 4, with a large fairway bunker on the left side in the landing area and another large bunker that guards the entire left side. Keep it right and your problems will be limited.

For me, the back nine had a lot of character and featured more subtle elevation changes from hole to hole. The final six holes were all memorable, especially the par 3 holes. Number 13 is a long double dogleg par 5 that demands an accurate tee shot to avoid the massive waste bunker on the right and fairway bunker on the left, and then an accurate layup shot that makes it to the second dogleg, yet avoids the fairway bunker in the landing area. Success to this point will leave a short pitch shot to a small, softly undulating green. Three well executed shots from tee to green can result in a low number.

Number 14 is a par 3 and is undoubtedly the course's signature hole. From the Blue Tees, it plays 170 yards and is not only the most photographed on the course, it's one of the toughest par 3s in the area. It's all carry over water with expansive bunkers front left and back right. The green features some deceptive undulations.

The 15th hole plays 342 yards (Blue Tees) and is very photogenic, with a creek crossing the middle of the fairway. If you're playing either of the back two sets of tees, the creek can easily come into play, however from all other tee boxes it's easy to carry and the hole becomes a relatively short dogleg right. If you want to cut the corner of the dogleg, go for it. Just be wary of the trees that can impair your approach shot to a long but narrow green that's well protected by bunkers. Believe it or not, this hole is handicapped the toughest on the back side. From the back tees, I can see why.

If the first par 3 on the back side didn't get your attention, Number 16 certainly will. It plays about the same length - 163 yards from the Blue Tees - but offers a little bit of relief with a bailout area left of the green. Anything right will find the water or foliage and anything long will find the sand. This is another par 3 where par is good.

Number 17 is a dogleg left par 4 that plays 342 yards and, if you haven't played the course before, you might think it goes right. The landing area is framed by bunkers and there is a fair amount of sand to the right of the green. Two well struck shots can set up a makeable birdie opportunity.

Forest Lake finishes strong with a 425 yard, par 4 dogleg left that requires an accurate tee shot between two bunkers. This leaves a long to mid iron slightly uphill into a small green surrounded by sand. A challenging end to a challenging golf course.

Last Word: Forest Lake is a Take-Your-Clubs-Out-Of-The-Trunk-Throw-Them-on-A-Cart-And -Head-To-The-First-Tee kind of place. The bag drop is easily accessible and the carts are right there. Greens fees are some of the lowest in the area, year-round! The staff is friendly and knowledgeable and leaves you feeling welcome and wanting to return. The beverage cart runs every day! In fact, the guys who designed the course years ago - George Clifton and Ken Ezell - still own and operate it; that's how much they think of Forest Lake.

All carts are equipped with the Pro Shot GPS system which provides accurate yardage to the front, center and middle of the green as well as distance to and over hazards. No maps, everything is displayed in text format. Simple is definitely better.

Water comes into play on about 8 holes and with the exception of the two par 3s on the back, there are no unmanageable forced caries. For the most part, the wet stuff can be found on the peripheries of the fairways, forcing you to hit it straight or pay the price.

The day we played, the pace of play was fantastic. We played as a twosome and had a threesome in front of us. I felt like we were constantly being held up, yet we finished the round in a little more than 4 hours including a short brake at their Rusty Niblick Grill. And, in case you're wondering, they did end up letting us play through!

Forest Lakes offers an annual membership that includes year-round discounts on greens and cart fees, 8-day advanced tee times, USGA handicap service, discounted range balls and a 10% discount on pro shop merchandise. You'll also be eligible for Forest Lake's annual tournaments including the Club Championship.

For more information or directions to the course, visit www.forestlakegolf.com.


Article Tags: Orlando golf, Florida Golf, Forest Lake, Ocoee FL
Revised: 10/09/2017 - Article Viewed 6,570 Times - View Golf Course Profile
Share Comment
Written By: David Theoret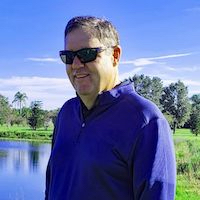 David Theoret has been in the golf and golf travel industry for over 10 years, primarily selling online advertising. For the past seven years, he has also been a golf writer, reviewing golf courses, resorts, destinations, equipment, golf apparel, and training aids - the latter of which never seems to help. David's articles and reviews have been posted on many golf travel and equipment websites.

Growing up in Southwestern Ontario, Canada, it was naturally assumed he would play hockey. Beginning at the age of 3 and continuing into his late 30's, he did just that. However, after one too many pucks to the head, he realized that golf was a lot easier on the body (whoever said hockey players were slow) and took the game up.

After moving to Florida and accepting a position with TravelGolf Media (now part of GolfNow) his love for the game grew exponentially. Most Saturdays you will find him on a course somewhere in Florida or on the practice range reinforcing his bad habits. David plays to a 10 handicap - unless there is money involved in which case it goes considerably higher. He currently resides in Lakeland, FL with his wife Belinda and their two "kids", Madyson and Molly.