Share:
---
Under Armour Eyewear for Golf Review
Look Your Best. Play Your Best.
By David Theoret
Since announcing a complete line of eyewear a couple of years ago, Under Armour has made considerable strides in the products they put out. UA Eyewear is strong enough to withstand just about anything while still offering the adjustability and comfort that athletes demand. Their lenses are engineered in collaboration with optics industry leader ZEISS, who has tested and delivered best-in-class lenses for sports optics for more than 100 years.

This year, they've upped the ante and introduced lenses that are "sport-specific." Their Golf Tuned lenses allow golfers to see the course in more detail. The light a golfer sees is precisely filtered to create sharper separation of color so that you can see moving objects with greater detail and gauge depth perception more accurately.

Another "tuned" lens from Under Armour is their "Recovery Tuned" lenses. These lenses are scientifically engineered to rest and protect your eyes after you leave the golf course. Recovery Tuned lenses promoting full recovery of the eyes by precisely filtering out harmful blue light. They calm, protect and help your eyes to relax and recover for your next physical endeavor.

Several of the models we tested - UA Octane, UA Glimpse and Big Shot, shared similar features including ArmourSight, ArmourFusion, UA Storm and AutoGrip temples.

An important feature of Under Armour's eyewear lenses is ArmourSight, which provides clarity for enhanced performance. The precisely engineered polycarbonate lens allows ultimate image definition and clarity. This patented lens technology delivers optimum distortion-free clarity from edge to edge while providing 100% protection from harmful UV A, B & C rays.

UA Storm Repellent Coating is a hydro/oleophobic coating which reduces glare and enhances color while repelling water, dirt, oil and grime.

ArmourFusion frames are extremely durable and combine titanium and Grilamid plastic. They're built with high grade injected polyamide for maximum strength & durability and are extremely comfortable.

UA Eyewear also feature AutoGrip self-articulating temples, an anatomically designed temple piece that conforms to your head shape without squeezing your brains out. Screwless cam-lock hinges allow the temples to lock securely into place for an extremely light and sturdy fit.

Under Armour's UA Octane sunglasses are all about versatility. They're made to fit medium to large heads so, whether you're playing golf, tennis, running or training, Octane's got you covered. The lenses wrap around your face, providing plenty of protection from the harmful effects of UV rays, while the adjustable three-point grip nose pads provide a no-slip fit that gives you all day comfort and security. UA Octane sunglasses are available in several frame colors ad lenses, one of which is the Golf Tuned lens. Retail price is $124.99.

Under Armour's UA Glimpse Polarized Sunglasses deliver old school style with a retro look. They reduce glare and feature polarized lenses for optimum clarity. ArmourSight technology offers distortion-free vision edge to edge and the UA Storm 360 coatings are applied to both sides of both lenses to repel water, dirt, oil, and grime. There's also a Three Point Grip with rubber temples and a keyhole nose bridge with nose pads to hold these lifestyle sunglasses in alignment. The Under Armour Glimpse Polarized Sunglasses are big on style and performance for every day, all-day wear. Retail price is $145.

The UA Getaway model embraces the classic aviator style and are designed for small to medium heads. They can be dressed up or down to match any look or event. Clear blue mirror ArmourSight lenses deliver total optical clarity, while protecting you from the sun's harmful UV rays. The adjustable nose pads keep the fit comfortable and secure all day long. UA Getaway sunglasses are available in several frame colors and lens combinations. Retail price is $135.

There's no mistaking the modern look of UA's Big Shot sunglasses, thanks to their contemporary styling. Big Shot is recommended for big heads - large and extra-large that is. The semi-rimless wrap design won't allow sweat to build up while you're looking over that putt. The Ultralight ArmourFusion frames are built from a combination of titanium & Grilamid for superior strength & flexibility. You'll see the ball clearer and notice more undulations in the greens with the ultralight Big Shot sunglasses. They are available in several different frame colors and lenses. Retail price is $160.

All Under Armour® Performance Eyewear lenses block 100% of UVA, UVB & UVC rays and is protected for life against manufacturer defects. A microfiber pouch which doubles as a cleaning rag is included with all Under Armour sunglasses; polarized models come with a hard case. For more information on these or other models for Under Armour, visit the website at www.underarmour.com.


Article Tags: sunglasses, accessories, Under Armour, UA Getaway, UA Octane, UA Glimpse, Big Shot
Revised: 03/13/2018 - Article Viewed 736 Times
Share Comment
Written By: David Theoret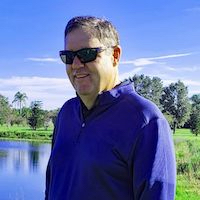 David Theoret has been in the golf and golf travel industry for over 10 years, primarily selling online advertising. For the past seven years, he has also been a golf writer, reviewing golf courses, resorts, destinations, equipment, golf apparel, and training aids - the latter of which never seems to help. David's articles and reviews have been posted on many golf travel and equipment websites.

Growing up in Southwestern Ontario, Canada, it was naturally assumed he would play hockey. Beginning at the age of 3 and continuing into his late 30's, he did just that. However, after one too many pucks to the head, he realized that golf was a lot easier on the body (whoever said hockey players were slow) and took the game up.

After moving to Florida and accepting a position with TravelGolf Media (now part of GolfNow) his love for the game grew exponentially. Most Saturdays you will find him on a course somewhere in Florida or on the practice range reinforcing his bad habits. David plays to a 10 handicap - unless there is money involved in which case it goes considerably higher. He currently resides in Lakeland, FL with his wife Belinda and their two "kids", Madyson and Molly.