Share:
REVO Sunglesses
Look Great, Play Great!
By David Theoret
For those of you who are not sunglass aficionados. Revo was founded in 1985 and their sunglasses were first created by utilizing lens technology developed by NASA as solar protection for satellites. The company was quickly recognized as the leader in polarized lens technology.

Now, more than 30 years later, Revo continues to build on its rich tradition of technology and innovation by offering the clearest and most advanced high-contrast polarized sunglass available. In fact, they have taken a couple of their classic sunglass models - Crawler and Knox - and added some new lens technology that make them perfect for golf.

All Revo lenses feature Digital Polarized Plus technology for 100% polarization to protect against blinding glare, while still allowing you to view devices such as watches, phones, etc. They manage the full spectrum of light, including blue light and high-energy visible (HEV) light. These lenses offer 100% UV protection and filter out harmful light, while selectively allowing in light that is helpful for vision.

They also have several layers of protection; in fact, there are several key components to Revo's Protection System. Their mirror coatings have 3-6 layers of high-tech, performance mirror coatings; the same lens technology that NASA uses for satellite protection. The Back-Surface Protection System has an additional 5 layers of protective coatings that help to reduce intrusive back-surface reflections and the hydrophobic and oleophobic coatings on the back and front of each lens helps to repel sweat, oils and fingerprints.

If you've ever tried on and worn a pair of Revo's sunglasses, you probably noticed they have an incredible fit. That's because their Motion-Fit design creates a custom and comfortable fit and their 6-Base Lens technology creates a flatter fit relative to your face.

The Crawler Sunglasses from Revo are a throwback to the past and the frame has a classic Revo shape. The smooth frame delivers extreme comfort and the elastomeric nosepads with slip-reducing rubber provide a more secure fit, meaning they won't fall off your face during your golf swing or move as you stand over that winning 4-foot putt. The high-performance, high-contrast polarized Serilium lenses are made from polycarbonate and are lightweight and shatterproof. You can choose from either Matte Black/Tortoise or Clear Crystal frames. Available lenses include Graphite Crystal Glass, Blue Water Serilium, Green Water Serilium and Graphite Serilium. Retail price is $189. On the golf course, these sunglasses allow you to track the ball off the tee even in the brightest light. They also seem to highlight the breaks in the green. They look great too!

Another pair of Revo sunglasses that perform great on the golf course are the Knox. Revo's Knox sunglasses bring classic style to the course with a rectangular shape and neutral colors that include gunmetal and brown. Knox sunglasses have all the Revo features you've come to expect from the company: comfort, well-fitting sunglasses with adjustable nosepads, spring hinges, and rubber temple grips. The frame has a milled effect with contrasting matte and shiny textures on the temples that add a look that is totally Revo. Frames are available in bronze/graphite and gunmetal; available lenses include: Blue Water Glass lenses and Serilium. Retail price is $239.

These are just a couple of models The Golfin' Guy found suitable for golf. I've found that golfers tend to play as good as they look and, since Revo sunglasses make you look great, there's no reason for you not to have the round of your life. For more information or to find a style that suits you, visit their website at www.revo.com.

Revised: 04/28/2018 - Article Viewed 635 Times
About: David Theoret
---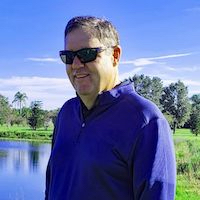 David Theoret has been in the golf and golf travel industry for over 10 years, primarily selling online advertising. For the past seven years, he has also been a golf writer, reviewing golf courses, resorts, destinations, equipment, golf apparel, and training aids - the latter of which never seems to help. David's articles and reviews have been posted on many golf travel and equipment websites.

Growing up in Southwestern Ontario, Canada, it was naturally assumed he would play hockey. Beginning at the age of 3 and continuing into his late 30's, he did just that. However, after one too many pucks to the head, he realized that golf was a lot easier on the body (whoever said hockey players were slow) and took the game up.

After moving to Florida and accepting a position with TravelGolf Media (now part of GolfNow) his love for the game grew exponentially. Most Saturdays you will find him on a course somewhere in Florida or on the practice range reinforcing his bad habits. David plays to a 10 handicap - unless there is money involved in which case it goes considerably higher. He currently resides in Lakeland, FL with his wife Belinda and their two "kids", Madyson and Molly.

---
More Articles by David Theoret
More Related Articles