Share:
PUMA Golf Apparel
- New Technologies in Golf Apparel
By David Theoret
PWRCOOL and EVOKNIT are the words - I mean technologies - of the day in PUMA's Spring 2018 golf apparel collection for men and women. PWRCOOL technology is meant to keep the body at its optimal temperature, allowing you to conserve energy for better performance and a strong finish on the 18th hole. EVOKNIT is all about comfort, lightweight, form-fitting comfort with superior temperature regulation. Many pieces in the Spring 2018 golf apparel collection feature one or the other, a few feature both.

If you're one of those ladies who likes to play early in the morning or late in the evening from spring to fall, you are likely familiar with layering. Puma's EVOKNIT 1/4 Zip Popover is the perfect piece; this super lightweight garment features seamless construction and a body-mapped jacquard ventilation system for added comfort. The blended polyester fabric has plenty of stretch, so there's no pinching or binding as you move through your swing. The EVOKNIT 1/4 Zip Popover also has PUMA's dryCELL moisture-wicking technology and is designed to keep you dry and comfortable throughout your round. It's available for ladies in sizes XS - XL and in several vivid colors: Purple Rose, Bright Plasma, Peacoat and Aquarius. Retail price is $75.

For years, PUMA has been offering their Pounce line of superior golf apparel; after all, if it ain't broke, don't fix it! One piece that is a staple of any golfer's wardrobe is, the Pounce Bermuda Short is designed to provide fit, comfort and performance for both professionals and amateurs. These cool shorts feature dryCELL moisture-wicking technology which draws sweat away from your skin for quick evaporation, keeping you dry and comfortable during golf. The mechanical stretch in the fabric moves with you every step of the way. The Women's Pounce Bermuda Short is available in sizes 0 - 16 and in 10 brilliant colors. Retail price is $65.

PUMA's PWRSHAPE Solid Knit Skirt is even better for 2018 and features the all new PWRSHAPE high-bonded waistband. This tummy control feature not only helps you look slim and trim, it's also designed to help you feel confident. The new gripper tape on the inner short helps to prevent bunching, and the forgiving fabric lets you move unrestricted throughout your golf swing. The blended fabric is finished with an anti-microbial agent to help you smell your best. There are two front and two back pockets with enough room for all your on-course golf essentials. The PWRSHAPE Solid Knit Skirt is available in ladies' sizes XXS - XL and in the following colors: Aquarius, Purple Rose, Black, White, Nebulas Blue, and Peacoat. Retail price is $65.

Another breakthrough ladies' polo is the EVOKNIT Seamless Golf Polo. The added stretch in the polyester blended fabric moves with you through your swing and as the name implies, the seamless design features body-mapped ventilation giving you added breathability, which comes in handy on those hot summer days. Puma's dryCELL technology keeps you calm, cool and collected through out your round. OK, maybe just cool; the rest is up to you. You've probably never worn a polo like this. The EVOKNIT Seamless Golf Polo is available in sizes XS - XL and in Puma Black, Nebulas Blue, Bright Plasma and Peacoat. Retail price is $65.

Just in case your golf game doesn't get you noticed, the Women's Bloom Golf Polo will. The fabric features dryCELL moisture-wicking technology and with UPF 40 sun protection, you'll keep the sun's rays at bay. But what will get you noticed is the large-scale, on-trend floral sublimation print. This stunning top is available in sizes XS - XL and in Bright Plasma, Nebulas Blue and Peacoat. Retail price is $60.

Puma's Women's Short Sleeve Sweater is perfect for making the swing from summer to fall. The thick rugby stripe patterned fabric features their dryCELL technology which wicks moisture away from the body for quick evaporation and the stretch fabric in this sweater is sure to turn heads as you make the turn. It's available in sizes XS - XL and in two color combinations: Purple Rose/ Peacoat or Bright White/ Peacoat. Retail price is $75.

If you're a lady who prefers golf pants to a skort or shorts, then PUMA's PWRSHAPE Golf Pants are the perfect fit. The PWRSHAPE waistband delivers tummy control, creating a sleek silhouette and the dryCELL technology will keep you feeling cool and comfortable. The 90% polyester/10% spandex has all the stretch you'll need, and the low-profile front and back pockets provide ample storage. The PWRSHAPE Golf Pants are available in sizes XXS - XL and in Puma Black, Peacoat, Bright White, or Quarry. Retail price is $80.

EVOKNIT isn't just for the ladies, in fact, PUMA makes some impressive men's garments in EVOKNIT as well. The EVOKNIT Block Seamless Polo This polo features seamless construction and engineered stretch panels that provide the ultimate fit and unrivaled comfort. The nylon/polyester blended fabric moves as you do with no pinching or binding and their dryCELL Technology keeps you dry throughout your round. The slight variation of color from mid-chest down produces a nice look. The EVOKNIT Block Seamless Polo is available for men in sizes S - XXL and in Paradise Pink, Quiet Shade, Marina, Acid Lime, or Peacoat. Retail price is $75.

The Botanic Golf Polo was created to elicit looks from your playing partners and was probably inspired by their Aloha Collection. This eye-catching polo feature's PUMA's moisture wicking dryCELL technology to keep you dry and UPF 40 sun protection to keep the sun's rays at bay. There's plenty of stretch in the 92% polyester/8% elastane jersey material. If you're looking tom make a fashion statement on the course, you're wearing the right piece. The Botanic Golf Polo is available in sizes S - XXL and in two color combinations: Quiet Shade/Quarry or Electric Blue Lemonade/Quarry. Retail price is $65.

Puma's Clubhouse Golf Polo makes a statement, especially if you choose one of the two Volition editions that salute our military. These special edition garments feature a Red, White and Blue Volition logo on the left sleeve. Crafted from super soft jersey cotton, the Clubhouse Polo features dryCELL technology, designed to keep you dry and comfortable throughout your round and well after and the polyester/cotton blended product moves with you and is soft to the touch. The design of the garment features a 3-button placket and self-collar with stripes across the shoulders and sleeves that go down mid-chest; from there it's a solid color block. The Clubhouse Golf Polo is available in sizes S - XXL and in Quarry, Peacoat, High Risk Red, Acid Lime, Marina, or Electric Blue Lemonade. Volition color choices are High Risk Red and Peacoat. Retail price is $60. Volition will cast you an extra $5, but it's a worthy investment.

The PWRCOOL Mesh Plaid Short is designed with comfort in mind; cool comfort. The micro-mesh fabric uses high-stretch elastic and silicone gripper that moves with you through your golf swing and keeps everything in place. There's a lot of garment technology at work in these shorts: dryCELL keeps you dry and PWRCOOL keeps you cool and comfortable. Breathable mesh tricot pockets are deep to keep your on-course valuables safe and secure and a ring snap closure and an innovative stretch waistband come in handy for that post-tournament buffet! The PWRCOOL Mesh Plaid Golf Shorts are available in waist sizes 28 -40 and in either Bright White or Peacoat. Retail price is $75.

Another fun loving short from PUMA is their PWRCOOL Mesh Fade Shorts. They have the same features as the Mesh Plaid Golf Shorts, but what makes them different is the sublimation print which looks like 6 different fabrics sewn together to make one pair of shorts. The PWRCOOL Mesh Fade Shorts are also available in sizes 28 - 40 and in Quiet Shade, Marina or Quarry. Retail price is $80.

To see the complete Spring 2018 Collection, visit their website at www.cobragolf.com.

Article Tags: Puma, Cobra, PWRCOOL, EVOKNIT
Revised: 06/05/2018 - Article Viewed 1,052 Times
About: David Theoret
---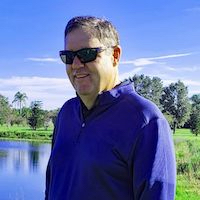 David Theoret has been in the golf and golf travel industry for over 10 years, primarily selling online advertising. For the past seven years, he has also been a golf writer, reviewing golf courses, resorts, destinations, equipment, golf apparel, and training aids - the latter of which never seems to help. David's articles and reviews have been posted on many golf travel and equipment websites.

Growing up in Southwestern Ontario, Canada, it was naturally assumed he would play hockey. Beginning at the age of 3 and continuing into his late 30's, he did just that. However, after one too many pucks to the head, he realized that golf was a lot easier on the body (whoever said hockey players were slow) and took the game up.

After moving to Florida and accepting a position with TravelGolf Media (now part of GolfNow) his love for the game grew exponentially. Most Saturdays you will find him on a course somewhere in Florida or on the practice range reinforcing his bad habits. David plays to a 10 handicap - unless there is money involved in which case it goes considerably higher. He currently resides in Lakeland, FL with his wife Belinda and their two "kids", Madyson and Molly.

---
More Articles by David Theoret
More Related Articles