Share:
Sugar Mountain Golf Club
- As Much Fun as an Executive Golf Course Can Offer
By David Theoret
Sugar Mountain Golf Club has a very interesting history. The land was originally part of 16,000 acres sold to Hugh MacRae that included Linville Resorts and Grandfather Mountain. McRae passed away in 1952 and willed the property to his grandson George. Nothing much happened with the property until 1969 when George, along with his wife Chessie and three business partners, began developing the property into a year-round resort that included tennis, golf and skiing.

Because of the design of the resort, there was only 60 acres of land left at the base of Sugar Mountain for the golf course, meaning it was going to have to be an executive-style golf course. The owners handpicked Francis Duane, longtime senior project manager for Robert Trent Jones Sr. as their course designer, with the understanding that Duane would also be the architect of their future championship course, Grouse Moor, which was to be located at the top of Flat Top Mountain, also part of the 16,000 acres the MacRaes and their partners owned.

As fate would have it, the year Sugar Mountain Golf Club opened in 1974, the economy tanked. Inflation rose, gas was rationed and the winter was uncharacteristically warm. The MacRaes had to declare bankruptcy and the bank foreclosed on the golf course. Duane never got to build Grouse Moor, the closest thing to it is a neighborhood by the same name in a nearby community. The young village of Sugar Mountain wanted to purchase the course but was considered by the banks to be too young to take on such debt. Sugar Mountain Ski Resort stepped in and purchased the property until the town could buy it back. Today, the course is owned by the Village of Sugar Mountain and is well run and its conditioning is as good as any municipal course I've ever played.

From the back tees, Sugar Mountain Golf Club plays 4,443 yards to a par of 64, with a course rating of 62.4 and a slope of 113. There are two other sets of tees: the White Tees play 4,071 yards (61.5/108) and the Red Tees play 3,418 yards (61.1/102). Pick the tees that best suit your game and you'll have a great and enjoyable time. There are nine par threes, eight par fours, and one par five.

Sugar Mountain sits at an elevation of 4,000 feet and offer golfers of all abilities a challenge. You'll be faced with uphill and downhill tee and approach shots, which can make for some interesting lies. As conditioning goes, this Municipal course rivals many semi-private facilities and has some of the best greens around. The putting surface are immaculate and roll true. Their undulation will challenge anyone.

Most Memorable Hole: Number 5, Par 4, 321 yards (Blue Tees). Although the yardage may be a little long at first glance, this par 4-hole screams "GO FOR IT," off the tee. It plays downhill and considerably less than the 321 yards stated on the scorecard from the Back Tees. If you're going to find the green off the tee, your shot has to be perfect; There's water in front of the green and dense woods flanking either side of a fairly narrow fairway. Even if you find the water in front of the tee, you still have a good shot at up and down and a par.

Signature Hole: Number 13, Par 3, 201 yards. According to Director of Golf Tom McAuliffe, this is the most intimidating tee shot on the course. "There is no margin for error, left or right," McAuliffe said. "There are bunkers front and left, and anything right ends up in the 'Valley of Death,' where there is no escape. The green has a lot of movement and is not easy to putt. It's the toughest birdie on the course. I'll take a par every time and not look back."

Favorite Par 3: Number 17, 144 yards (Blue Tees). You'll need to carry your tee shot onto the green as sand guards the front of this medium length par 3 hole. There is a large hump on the right side of the green which helps the ball funnel down to the left and is the ideal spot to hit the green on left pin placements.
Favorite Par 4: Number 4, 290 yards (Blue Tees). This hole is handicapped #1 and for good reason. A mountain stream crosses directly in front of the tee box and then meanders down the right side of the fairway, only to cross your path again in the tee shot landing area. Avoid the stream off the tee and the bunker on the left side and you can score well. The green is very wide and not very deep.

Favorite Par 5: Number 15, 394 yards (Blue Tees). Who's not going to fall in love with a 400-yard par 5? It may be a great chance to capture that elusive eagle! Don't let the yardage lull you into a false sense of security; it plays uphill all the way. It's a tree-lined dogleg right with a mountain stream crossing the fairway which shouldn't be a hinderance. There's also a single large greenside bunker on the right. A drive down the left side will take the bunker out of play and set up a great opportunity to get home in two. The second shot is somewhat intimidating with a narrow opening to the green and creeks left and right. Good luck!

Sugar Mountain Golf Club is located minutes from Boone, Banner Elk and the Blue Ridge Parkway. You'll enjoy the golf course, the scenery and the fresh mountain air. If you're looking for a course that will challenge you and don't have five or six hours set aside, give Sugar Mountain Golf Club a try. Visit their website at www.seesugar.com/golf. To book your next round, give them a call at (828) 898-6464.

Revised: 07/12/2018 - Article Viewed 520 Times
About: David Theoret
---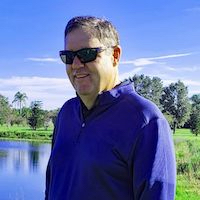 David Theoret has been in the golf and golf travel industry for over 10 years, primarily selling online advertising. For the past seven years, he has also been a golf writer, reviewing golf courses, resorts, destinations, equipment, golf apparel, and training aids - the latter of which never seems to help. David's articles and reviews have been posted on many golf travel and equipment websites.

Growing up in Southwestern Ontario, Canada, it was naturally assumed he would play hockey. Beginning at the age of 3 and continuing into his late 30's, he did just that. However, after one too many pucks to the head, he realized that golf was a lot easier on the body (whoever said hockey players were slow) and took the game up.

After moving to Florida and accepting a position with TravelGolf Media (now part of GolfNow) his love for the game grew exponentially. Most Saturdays you will find him on a course somewhere in Florida or on the practice range reinforcing his bad habits. David plays to a 10 handicap - unless there is money involved in which case it goes considerably higher. He currently resides in Lakeland, FL with his wife Belinda and their two "kids", Madyson and Molly.

---
More Articles by David Theoret