Share:
Maui Jim
- Four Models to Help You See Better on the Course
By David Theoret
Maui Jim has been a premier sunglass company for many years and although they may not be recognized as a big player in the golf industry, the company continues to create new models and styles that are great for golf. They cut through glare and provide crisp, clean optics that let you see clearly and can even help reading greens.

Maui Jim's Alelele Bridge sunglasses take the classic aviator shape and raise it up a notch. Alelele Bridge features a lightweight frame that is available in a variety of vibrant colors. These comfortable frames have adjustable nose pads and rubber inserts on the inner temples. Several lenses are available for the Alelele Bridge sunglasses: Neutral Grey, Maui Rose, Blue Hawaii, HCL Bronze, and Maui HT, creating the richest colors and sharpest contrasts. All five lenses are made from the company's MauiBrilliant lens material with optics almost as clear as glass and only one-third of the weight, making them perfect for your golf game. You'll be able to follow the ball off the tee and see breaks in the green you've never seen before. Maui Jim's Alelele Bridge sunglasses retail for $229. The Matte Blue frames and Blue Hawaii lenses make for a good looking combination.

When it comes to playing golf in sunglasses, I prefer a rimless model; something that won't let perspiration build up on the rims. Maui Jim's Kumu sunglasses are the ideal pair of rimless, polarized sunglasses for golf and best complement medium sized faces. The superior lightweight frame allows for extreme comfort and superior lens coverage for all day wear. The Kumu frames are available in four colors with four different lenses. Each one has matching temple pads: Blue/Neutral Grey, Gloss Black/Blue Hawaii, Metallic Gloss Copper/HCL Bronze and Gun Metal/Maui HT. All four lenses are made with MauiBrilliant, Maui Jim's most advanced lens material that features optics nearly as clear as glass with just one-third of the weight. Retail price is $299.

Maui Jim's Pokowai Arch Sunglasses are a traditional, rectangular shape, made from a lightweight Grilamid frame that is available in a variety of colors. Like the Alelele Bridge model, Pokowai Arch has adjustable nose pads and rubber inserts on the inner temples, providing all the comfort your eyes will need on the course. Three frame/lens combinations are available: Black Matte with Neutral Grey lenses, Translucent Matte Grey with Blue Hawaii lenses and Olive Tortoise frames with HCL Bronze lenses. All three lenses are made from Maui Jim's most popular lens material - MauiPure. It combines optics that are almost as crisp as super thin glass with and excellent scratch & shatter resistance. The Pokowai Arch sunglasses retail for $229.

Another pair of Maui Jim's that work well on the golf course are the Kawika sunglasses, but be careful, they may become your go to pair of shades. They are that good looking and comfortable. The Kawika frames have the retrospective look of one of Maui Jim's original styles. These polarized classic sunglasses are a true testament to Maui Jim's legacy and heritage of providing quality, durable frames with unmatched lens clarity. The Kawikas are available in three frames/lens combinations: Black Gloss with Antique Pewter/Neutral Grey, Crystal/Blue Hawaii, Tortoise with Antique Gold/HCL Bronze. All for lenses are made with MauiPure, one of Maui Jim's most popular lenses. MauiPure combines optics almost as crisp as SuperThin Glass with ultralight and excellent scratch & shatter resistance. Retail price is $299.

Something fairly new with Maui Jim is a customizing process called MyMaui, which allows you to pair your favorite frame color with your favorite lens at no upcharge. You can even make them "readers if need be. Just click the MyMaui button on the right side of the page when choosing your favorite pair of Maui Jim sunglasses. For more information on these or any other Maui Jim products including apparel, visit www.mauijim.com.

Article Tags: Maui Jim Sunglasses, golf sunglasses, Alelele Bridge, KUMU, Pokowai Arch, Kawika, polorized sunglasses
Revised: 10/04/2018 - Article Viewed 994 Times
About: David Theoret
---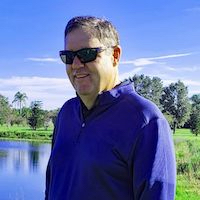 David Theoret has been in the golf and golf travel industry for over 10 years, primarily selling online advertising. For the past seven years, he has also been a golf writer, reviewing golf courses, resorts, destinations, equipment, golf apparel, and training aids - the latter of which never seems to help. David's articles and reviews have been posted on many golf travel and equipment websites.

Growing up in Southwestern Ontario, Canada, it was naturally assumed he would play hockey. Beginning at the age of 3 and continuing into his late 30's, he did just that. However, after one too many pucks to the head, he realized that golf was a lot easier on the body (whoever said hockey players were slow) and took the game up.

After moving to Florida and accepting a position with TravelGolf Media (now part of GolfNow) his love for the game grew exponentially. Most Saturdays you will find him on a course somewhere in Florida or on the practice range reinforcing his bad habits. David plays to a 10 handicap - unless there is money involved in which case it goes considerably higher. He currently resides in Lakeland, FL with his wife Belinda and their two "kids", Madyson and Molly.

---
More Articles by David Theoret
More Related Articles