Share:
When It Comes to Outerwear
- FootJoy's Got You Covered
By David Theoret
FootJoy makes some of the best outerwear pieces in the business designed specifically for golf. Their Short Sleeve Sport Windshirts provide outstanding comfort and protection on the golf course during windy playing conditions. These windshirts feature side pockets which offer plenty of storage as well as a warm home for your hands. Half-zip construction make this an easy piece to get on and off as the weather dictates. The raglan sleeves are non-restrictive and the fabric's Water repellent finish will keep you dry in mist or light rain The Short Sleeve Sport Windshirt S - XXL COLORS: Navy/Silver, White/Steel Grey/Black, Charcoal/Black/White, Royal/Black/White, White/Red/Navy, White/Navy/Lime, or Light Blue/Navy. Retail price is $78

If you're looking for cold-weather comfort on the golf course, FootJoy's Quilted Fleece Jacket brings you the perfect balance between performance, warmth and stylish comfort. This performance sweater knit fleece is incredibly soft to the touch and offers great thermal retention and the 4-way stretch fabric moves with you through your golf swing. Elastic cuffs add an extra level of protection from wind and rain and the side pockets allow for hand comfort and warmth. The Men's Quilted Fleece Jacket is available in sizes S - XXL and in Navy, Black, or Charcoal. Retail price is $175.

If you're the type of guy who likes to dress and play their best, especially when the temperature drops, then FootJoy's Lined Performance Sweater is a warm weather piece you've got to take a look at. The extended half-zip design allows you to easily put it on/take it off during changing weather conditions and the premium windproof liner keeps you warm in windy conditions. The Lined Performance Sweater is sewn from luxurious Merino wool, which provides warmth and comfort while allowing full range of motion during your golf swing. It's a cool weather piece that strikes the perfect balance between performance, protection, and stylish comfort. FootJoy's Lined Performance Sweater is available in sizes S - XXL and in Black, Navy, Ivory, Charcoal and Heather Indigo. Retail price is $160.

FootJoy's HydroLite Golf Rain Jackets are designed to keep you dry and comfortable regardless of the weather. They are constructed from advanced materials that packed with technology and deliver 100% waterproof and breathable protection. The HydroLite System is a 100% waterproof shell and combines lightweight fabrics with a bonded liner, making these DryJoy pieces the lightest garments FootJoy has ever made. The seams are also sealed for complete waterproofing and a waterproof front zipper allows for easy-on and easy-off wear. There's also a scorecard pocket with easy storage and retrieval. FootJoy's HydroLite Rain Jacket is available in sizes S - XXL and in several color combinations: Lime Check/Charcoal, White/Heather Charcoal/Red, Flame/Black/Black + White Check, or Black/White Check Retail price is $185.

Perhaps the nicest piece of golf apparel that FootJoy is offering with their Fall 2018 collection is the DryJoys Tour LTS Jacket, which is available in sizes S - XXL. The LTS Jacket features a ThermoLite bonded liner combined with hollow-core fibers that entrap insulated air and delivers constant temperature regulation. It's constructed with a 3-layer bonded four-way stretch shell that contains a Durable Water Repellent (DWR) Finish that helps keep you dry when the wet stuff comes down. The LTS Jacket is lightweight and is constructed with 5 panels to reduce bulk, improve mobility, and maximize waterproof protection. The side pockets allow for hand comfort and warmth and the adjustable waterproof cuffs offer a custom fit and waterproof protection. There's a zippered chest pocket that provides easy access to your scorecard, wallet or flask, if you're playing that bad! DryJoys Tour LTS Jacket is available in several color combinations including: Flame/Black, White/Charcoal/Cadet Blue, Steel Grey/Black, Black/White, Charcoal, Navy and Royal/Heather Grey Retail price is $285. Now you can look and play like a pro. Or at least dress like one!

For the ladies, leggings seem to be a popular piece of attire this fall season that is designed to keep your lower half warm. So now that your lower extremities are warm and toasty, it's time to warm up your core. And nothing does that better than FootJoy's Full-Zip Quilted Hybrid Vest, which offers thermal retention and is incredibly soft. This performance sweater knit fleece garment has 4-way stretch and moves with you through your entire swing with no pinching or binding. The full-zip construction makes it easy to get on and off and the front pockets are there for your golf accessories and scorecard or to keep your hands warm, whatever you prefer. The Full Zip Quilted Hybrid Vest is available in sizes XS - XL and in Red or White. Retail price is $125.

Looking for something a little different? Check out FootJoy's French Terry Pullover. As the name suggests, this garment features a flattering shawl collar which gives it a creative and stylish look while providing added comfort. The performance 4 way stretch fabric offers extreme comfort and provides complete range of motion during the golf swing. This great looking ladies piece is available in sizes XS - XL and in Sky, White or Heather Charcoal. Retail price is $95.

If you tend to get claustrophobic pulling half-zip and quarter-zip jackets over your head, FootJoy's Full-Zip Space Dye Color Block Jacket may be the answer. It's easy to put on and take off and has all of the performance features you're looking for in a golf jacket. The breathable 4 way stretch fabric helps move moisture away from your arms for added comfort and the anti-microbial finish keeps you smelling your best. This jacket is available in sizes XS - XL and in Black/White/Red or Sky/White/Charcoal. Retail price is $125.

Another performance mid-layer piece is FootJoy's Half-Zip Stripe and Solid Yoke. It's a versatile piece of women's golf attire with all of the aforementioned performance features. The extended half-zip design allows for easy access wear during ever changing weather conditions. The Half-Zip Stripe and Solid Yoke offers contemporary styling in easy to care for fabric and is available in sizes S - XL. Colors include Red/White, or White/Sky and retails for $95.

These are just some of the outerwear pieces available for men and women in Fall 2018. Like all FootJoy products, the craftsmanship, durability and looks are all over the top. To see the complete collection, visit the website at www.footjoy.com.

Article Tags: FootJoy Golf Apparel, men's golf apparel, Golf outerwear, Golf Jacket, FootJoy, Footjoy golf apparel,golf apparel, women's golf apparel, women's golf skort, Women's golf polo, golf polo, golf shorts, golf dress
Revised: 11/04/2018 - Article Viewed 225 Times
About: David Theoret
---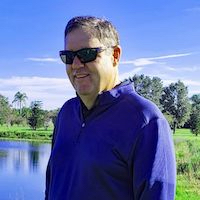 David Theoret has been in the golf and golf travel industry for over 10 years, primarily selling online advertising. For the past seven years, he has also been a golf writer, reviewing golf courses, resorts, destinations, equipment, golf apparel, and training aids - the latter of which never seems to help. David's articles and reviews have been posted on many golf travel and equipment websites.

Growing up in Southwestern Ontario, Canada, it was naturally assumed he would play hockey. Beginning at the age of 3 and continuing into his late 30's, he did just that. However, after one too many pucks to the head, he realized that golf was a lot easier on the body (whoever said hockey players were slow) and took the game up.

After moving to Florida and accepting a position with TravelGolf Media (now part of GolfNow) his love for the game grew exponentially. Most Saturdays you will find him on a course somewhere in Florida or on the practice range reinforcing his bad habits. David plays to a 10 handicap - unless there is money involved in which case it goes considerably higher. He currently resides in Lakeland, FL with his wife Belinda and their two "kids", Madyson and Molly.

---
More Articles by David Theoret
More Related Articles