Share:
Albemarle Plantation
- The Perfect Combination of Land and Sea
By David Theoret
Living in the southeast, in fairly close proximity to the water and surrounded by world class golf courses, there has always been a debate when it comes to how one should spend their leisure time: on the links or on the water. Albemarle Plantation, a community located on Albemarle Sound in Northeastern North Carolina poses the question: why choose?

Albemarle Plantation is an exceptional golf and waterfront community that features both a Dan Maples Signature Golf Course and a full-service marina. The 1,300-acre development offers homeowners a selection of styles including single family homes, townhomes and condos. Want to design something yourself? Albemarle Plantation also has a number of undeveloped lots available, with fairway, waterfront and wooded lots to choose from. The community is named after Albemarle Sound, giving the community a strong focus on the water. The Dan Maples Signature golf course is named The Sound Golf Links; see how it all comes together?

In addition to the golf course and marina, Albemarle Plantation is home to a collection of four-star amenities, including a charming Clubhouse, a resort-style, 25-meter swimming pool, a new community center, tennis courts, a fitness facility, and much more.

Unlike many other gated golf communities, Albemarle Plantation is owned and managed by its own residents. As a result, it's a community where your interests come first, your money stretches farther, and the level of your serenity remains at the high end of the spectrum. As a resident, you'll enjoy a variety of community meetings, social activities and special events that take place in the Community Center facility, a modern multi-purpose center. The Community Center features a 1200-square foot main room for POA meetings, parties, dances, celebrations and large aerobic/exercise classes. There's a state-of-the-art surround sound audio-visual system in house. The center is also home to a 900-square foot fitness center, which is equipped with the latest cardio and strength training equipment. You'll also find two card and game rooms, an arts and craft room and a kitchenette.

The marina and golf course are the centerpieces of daily life at Albemarle Plantation. The Albemarle Sound is the second largest coastal estuary in America, second only to Chesapeake Bay. Residents here enjoy a variety of marina activities, from sailing to swimming, water-skiing, paddling by kayak or canoe, fishing and crabbing. Albemarle Plantation offers a full-service, deep-water 166-slip marina, which is one of the largest private boat basins on the Eastern Seaboard.

The Sound Golf Links at Albemarle Plantation is the only golf course in the area to earn four-and-a-half stars from Golf Digest Magazine. This Dan Maples masterpiece flows gracefully through the coastal terrain, making its way past towering pines and moss-draped cypress trees and across gently waving marshes and lush wetlands. All of this builds its way up to a crescendo, with the last three dramatic finishing holes along the Albemarle Sound; it's the best of land and sea.

The 8th hole is all about risk vs reward. From the White tees, the hole measure 256 yards and screams "Go for it!" Brains is better than brawn here as a go for the green requires pinpoint accuracy. The marsh pinches in on both the right and the left; anything but straight and you can just head for the drop area. The wise player will hit much less than driver and leave a manageable shot into the green.

Number 16 (par 4, 253 yards) is the first of three holes that features a stunning view of the Sound. It's a short dogleg left par 4 that requires a well-placed tee shot. Try and cut the corner and you are flirting with trees and OB. Make a good second shot and birdie is a definite possibility. The par 5, 17th hole is actually shaped by Albemarle sound. From the White Tees, the hole plays 468 yards and a long drive is essential if you want to put up a good score. Should you decide to go for the green in two, you'll need tremendous accuracy as the green is guarded on all four sides by bunkers and marshlands. Number 18 is a powerful finishing hole. Although it's not the longest, it has proven for many to be the difference between victory and defeat. Albemarle Sound runs down the entire right side of this dogleg right par 4, with a 150-yard sand bunker situated between the fairway and the Sound. Hit anything through the left side of the fairway off the tee and you'll most likely find it in a bunker. Find the fairway off the tee and you'll be looking at a short chip shot into an uphill green. Don't be surprised if you here some cheers and jeers from the clubhouse verandah is you finish up. Even if you're not at the top of your game, the unrelenting beauty of the natural surroundings will keep you coming back round after round.

Being member-owned the people here take pride in the course. Residents that live on the course take it upon themselves to fill in divots, repair ball marks and keep each hole in pristine condition. Their passion is evident and their efforts shine through to keep this an incredibly well-maintained facility.

The newly renovated Clubhouse Restaurant overlooks the Albemarle Sound and features a full-service bar in the Grille Room, a formal dining room and an outside terrace. It's open Sunday - Tuesday 7:30am until 2:00pm and Wednesday - Saturday 7:30am to 8:00pm. The menus currently feature Morning Station items, appetizers, lunch, dinner and a Sunday brunch. A special TGIF menu is available on Friday.

Another dining venue at Albemarle Plantation is the Dockside Café. It's situated adjacent to the Marina and is easily accessible by boat or car. The Dockside Café serves wood fired pizzas along with a variety of specialty sandwiches, salads and pasta dishes. At the Dockside Café, you can relax inside or dine outdoors on their 1,700 square foot wraparound deck and enjoy a glass of wine from the Albemarle Plantation Retail Wine Store. They're open Sunday - Tuesday from 2:00pm until 9:00pm.

For more information on becoming a member or resident of Albemarle Plantation, give them a call at (800)523-5958.

Article Tags: Albermarle Plantation, Sound Golf Links, Stay and play golf packages, stay and play golf packages in north carolina, golf north carolina, Albermarle Sound
Revised: 12/12/2018 - Article Viewed 25,583 Times
About: David Theoret
---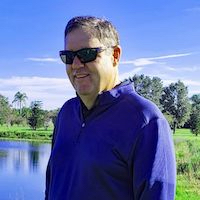 David Theoret has been in the golf and golf travel industry for over 10 years, primarily selling online advertising. For the past seven years, he has also been a golf writer, reviewing golf courses, resorts, destinations, equipment, golf apparel, and training aids - the latter of which never seems to help. David's articles and reviews have been posted on many golf travel and equipment websites.

Growing up in Southwestern Ontario, Canada, it was naturally assumed he would play hockey. Beginning at the age of 3 and continuing into his late 30's, he did just that. However, after one too many pucks to the head, he realized that golf was a lot easier on the body (whoever said hockey players were slow) and took the game up.

After moving to Florida and accepting a position with TravelGolf Media (now part of GolfNow) his love for the game grew exponentially. Most Saturdays you will find him on a course somewhere in Florida or on the practice range reinforcing his bad habits. David plays to a 10 handicap - unless there is money involved in which case it goes considerably higher. He currently resides in Lakeland, FL with his wife Belinda and their two "kids", Madyson and Molly.

---
More Articles by David Theoret