Share:
SanSoleil for Fall 2018
- Keeping The Sun's Rays at Bay
By David Theoret
SanSoleil is at it again; producing stylish men's and women's golf apparel with one thing in mind: sun protection.

Actually, make that two things. This new collection sees an emphasis on style and fashion, creating timeless garments that ladies want to wear on the golf course, all the while keeping the sun's rays at bay.

This SolStyle® Ice Sport Skort was inspired by some tennis apparel. This pleated skort is sure to add a stylish touch to any gal's golf wardrobe. The pleats give this garment a fun, sophisticated finish for either the tennis court or golf course. The ICE Sport Skort is lightweight and breathable and the fabric helps keep you cool when things heat up on the course. It also has UPF 50+ sun protection. The pull-on style features a comfort waistband and built-in shorties with plenty of stretch. The ICE Sport Skort has plenty of storage too: two deep zippered front pockets and one back zippered pocket. This skort is available in sizes XS - XXL and in either the Barcelona or Lido print. Retail price is $104.

SanSoleil also makes an awesome pair of ankle pants for ladies. The SolStyle ICE Ankle Length Pant has three desirable features when it comes to golf apparel: stretch, comfort and cool. Plus it looks great too. The wide pull-on waistband sits comfortably on your natural waist and makes getting them on and off a breeze. These pants are fitted through the thigh with a slim leg and the side slits on the hem create added fit and comfort. Zippered front and rear pockets provide ample storage space. UPF 50+ sun protection keeps the sun's harmful rays at bay. The SolStyle ICE Ankle Length Pant is available in sizes XS - XXL and in solid Black or your choice of two prints: Honeycomb Black or Oasis Border. Retail price is $120.

For ladies who prefer golf dresses - and the numbers are growing - the SolStyle ICE Long Sleeve Zip Mock Dress makes a statement. This dress is shape-fitted with princess seams from bust to hem and features long sleeves feature mesh venting to help keep you cool, while keeping the sun off your skin. There's two front zippered pockets for all of your golf essentials and the connected athletic shorts have plenty of stretch as well as one added pocket. The SolStyle ICE Long Sleeve Zip Mock Dress is available in sizes XS - XXL and in several prints including Oasis, Barcelona, Lido, Deauville Navy, Honeycomb Black and Honeycomb Capri Blue. Retail price is $130.

Performance polos are where SanSoleil has made its mark and the 2018 fall collection doesn't disappoint. The ZIP Polo features SanSoleil's SolCool Nano Fiber Technology which provides permanent cooling and can reduce your body temperature by 5%. Super Cool Nylon is combined with SanSoleil's mesh inserts to create quick cool technology in the world's most comfortable fabric This technology also wicks moisture away from the body for quick drying and will never wash out of the fabric. The fabric itself is very lightweight and easy to care for and with UV 50 protection, you won't have to worry about too much sun. The Swarovski® Zipper Puller adds an element of glam to an already good-looking garment. The SolCool ZIP Polo is available in sizes XS - XXL and in several colors and prints including: Honeycomb Black, Piper Pink, Last Call Blue, Wildcat Brown, Poppies, and Westport Pink. Retail price is $96.

SanSoleil's SunGlow Zip Polo offers up permanent UPF 50 sun protection which will never fade away or wash out. SunGlow's moisture wicking and quick drying helps to create a cooling effect that provides both perfect comfort and protection from the sun. The mesh inserts that are sewn into the long sleeves create a billowing effect while you walk, providing added cool and comfort. The high neck stand on the polo collar provides added coverage and a traditional golf polo look. At first feel, the SunGlow Zip polo is silky soft to the touch yet can be washed and dried on the regular cycle. A Swarovski® Zipper Puller offers the final touch of elegance. The SunGlow Zip Polo is available in sizes XS - XXL and in several colors: Cornflower Blue, Red, Navy, Blush, White, or Capri Blue. Retail price is $91.

The SolCool Print Zip Mock polo is lightweight with added stretch to get through every phase of your golf swing. The long sleeve design features SanSoleil's SolCool technology with excellent moisture wicking capabilities and has mesh vent inserts sewn into the sleeves to create that billowing effect. The mock neck is extra tall for added sun protection and the UPF 50 finish keeps you well protected from the sun. Like all SanSoleil polos, the Swarovski Zipper Puller adds a nice touch. The SolCool Print Zip Mock polo is available in sizes XS - XXL and in several colors and prints: Tee Time Pink, Blitz Cornflower, Match Play Navy, Honeycomb Red, and Deauville Green. Retail price is $96.

Even when you're not on the course, you still want to be well protected from the sun and SanSoleil's SolTek Cropped Fitness Tee is the perfect tee. SolTek technology combines an easy care, soft and lightweight fabric with the company's cooling technology for round-the-clock comfort. What's more, this garment is incredibly versatile and can be worn under or over short sleeve or sleeveless polos for an extra level of protection. Or, you can be daring, and wear it all by itself. The SolTek Cropped Fitness Tee is available in sizes XS - XXL and in either Black or White. Retail price is $74.

These are just a few of the pieces offered by SanSoleil in their Fall 2018 collection. To see the rest of what's available from this leader in sun protection technology, visit their website at www.sansoleil.com.

Article Tags: SanSoleil Golf Apparel, SanSoleil, Sun Protection apparel, golf sun protection apparel, Men's Sun protection apparel
Revised: 01/11/2019 - Article Viewed 146 Times
About: David Theoret
---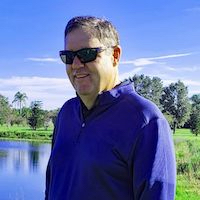 David Theoret has been in the golf and golf travel industry for over 10 years, primarily selling online advertising. For the past seven years, he has also been a golf writer, reviewing golf courses, resorts, destinations, equipment, golf apparel, and training aids - the latter of which never seems to help. David's articles and reviews have been posted on many golf travel and equipment websites.

Growing up in Southwestern Ontario, Canada, it was naturally assumed he would play hockey. Beginning at the age of 3 and continuing into his late 30's, he did just that. However, after one too many pucks to the head, he realized that golf was a lot easier on the body (whoever said hockey players were slow) and took the game up.

After moving to Florida and accepting a position with TravelGolf Media (now part of GolfNow) his love for the game grew exponentially. Most Saturdays you will find him on a course somewhere in Florida or on the practice range reinforcing his bad habits. David plays to a 10 handicap - unless there is money involved in which case it goes considerably higher. He currently resides in Lakeland, FL with his wife Belinda and their two "kids", Madyson and Molly.

---
More Articles by David Theoret
More Related Articles