Share:
MyJoys Golf Footwear from FootJoy
- Have It Your Way
By David Theoret
It all started with a hamburger chain back in the 80's - their motto was "Have it Your Way." Since then, it's always been about self-indulgence and doing what you want, and when you want it. Just about any restaurant will create whatever you want after all, everything has a price. And they can always use the business. So why should it be any different when it comes to golf footwear.

FootJoy has always been one of the most popular and innovative companies in the industry when it comes to golf footwear. Their gear is worn by more PGA, LPGA and Champions Tour pros then any other. Their shoes are comfortable, functional and stylish.

One division within the company is the MyJoys division, which is designed to "have it your way." They offer a simple online process whereby customers can go on the FootJoy.com website and design their own pair of shoes. Here's how it works:

1. Log on to FootJoys.com, click on Shoes and then click on Design My Own. Chose Men's or Women's and you're off and running. Or, if your goal is to show your support for your favorite college or MLB team, click on Shop by Team under the Design Your Own Tab. You'll find several options for each team available with color schemes already picked out. But if you really want to get creative, read on!

2. Pick a Style. Currently, men have 11 to choose from, women have 8. Prices range from $199.00 - #319.00, so there is a little bit of a surcharge.

3. Select your size and width and click Continue To Colors. Now the real fun begins.

4. The first choice you have to make is a base color. When you consider all of the types of leathers and available colors here are over 50 to choose from for guys, so let's get creative. Once you've made this monumental decision click Continue.

5. Next, choose the color of the saddle. If you're not sure which part is the saddle, just click on one of the colors and watch it appear on the picture in front of you. Don't like that one? Just click on another color or category. There's over 100 different colors, textures and patterns. Once you're done click Continue again.

6. Now it's time to pick an accent, which is usually the smallest area on the shoe but in no way the least significant. Your decision is critical to the final design. Choose wisely my son!

7. The laces are next and believe it or not, there are a number of possibilities. You can contrast them to stand out or make them blend in, it's your choice. If you chose a pair of the BOA lacing system shoes, your choices are simple: Black or White.

8. Choosing your own color scheme is fun, but now it's time to get personal. With MyJoys, you can personalize each shoe. You can use your initials or those of a friend or loved one. I suppose if your name is Sue or Bob, you could spell your name; there are three spaces available. You could even put JOE on the right shoe and BOB on the left if you were so inclined. Or you can choose from MyJoy's collection of over 200 logos. If you don't see a logo you like or maybe you have a company logo you'd like to use, pick up the phone and give them a call or chat with someone online. If you have the right camera-ready artwork available, odds are they can work with you.

9. Review your design, add it to your cart, pay with a credit card and your new MyJoy's are on their way.

Congratulations, you now own a pair of shoes that have been created your way. They usually ship within a couple of weeks; a little longer if they are using a special logo. No matter which style you chose, you'll years of wear out of them all the while stylin' and profilin' your look down the fairway.

To get stared on designing your own personal style golf footwear, visit the FootJoy website at www.footjoy.com.

Article Tags: FootJoy Golf Shoes, FootJoy, Golf shoes, MyJoy. MyJoy's, MyJoy's golf shoes
Revised: 01/11/2019 - Article Viewed 195 Times
About: David Theoret
---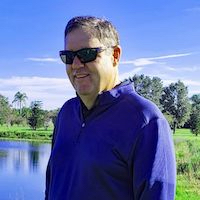 David Theoret has been in the golf and golf travel industry for over 10 years, primarily selling online advertising. For the past seven years, he has also been a golf writer, reviewing golf courses, resorts, destinations, equipment, golf apparel, and training aids - the latter of which never seems to help. David's articles and reviews have been posted on many golf travel and equipment websites.

Growing up in Southwestern Ontario, Canada, it was naturally assumed he would play hockey. Beginning at the age of 3 and continuing into his late 30's, he did just that. However, after one too many pucks to the head, he realized that golf was a lot easier on the body (whoever said hockey players were slow) and took the game up.

After moving to Florida and accepting a position with TravelGolf Media (now part of GolfNow) his love for the game grew exponentially. Most Saturdays you will find him on a course somewhere in Florida or on the practice range reinforcing his bad habits. David plays to a 10 handicap - unless there is money involved in which case it goes considerably higher. He currently resides in Lakeland, FL with his wife Belinda and their two "kids", Madyson and Molly.

---
More Articles by David Theoret
More Related Articles