Share:
Antigua Golf 2019 Spring
- See and Be Seen
By David Theoret
Men's and Ladies Golf Apparel Soars to New Heights with Antigua's Spring 2019 Collections. The Men's Ellis Shorts feature Antigua's patented Desert Dry moisture wicking technology to keep your bottom half cool and comfortable when things heat up on the course or wherever these great looking shorts may take you. This lightweight, dobby back texture solid woven short has front and back on-seam pockets to keep all of your golf valuables safe and secure. The Ellis shorts are available in waist sizes 30- 42 and in several solid colors: White, Navy, Black, Stone and Dark Grey. These could easily become this summer's go to short!

If you're like many golfers, you can't let a little cold weather keep you off the course and with Antigua's new Golf Jacket, weather will be the least of your concerns. It's crafted from a 100% polyester interlock face with bonded brushed back and features water resistant sleeves. The full zip design makes getting it on and off a snap. The Golf Jacket also has dyed to match taping detail at collar, shoulder and sleeve, and hand pocket flaps. The pockets are zippered for extra security. The Antigua logo is embossed at the back of the neck. Available in sizes S - 5XL, the Golf Jacket is available in 14 vibrant colors. Others WILL take notice!

Antigua has several new men's polos that are sure to make a statement. They all feature Desert Dry moisture wicking technology. The Dune Polo is a jersey knit short sleeve shirt with palm trees printed on the front. The sleeves and back are a solid color. Dune features a self-collar, classic 3-button placket, side slits and an Antigua "A" on the right sleeve to identify the brand. It's the perfect shirt to take you from the 18th green to a night on the town. The Dune Polo is available in sizes S - 3X and in 5 different color combinations.

Two other yarn stripe polos that will really make your day are the Quest Polo and the Sureshot Polo. Quest is sewn from a soft jersey fabric and features a self-collar and 3-button placket. Side slits provide the perfect fit and there's an Antigua patch on the right cuff. Then, horizontal stripes create a mesmerizing look. The Quest Polo is available in sizes S - 5X and in more than 30 color combinations.

Spandex in the fabric of the Sureshot Polo provides a little extra give. This yarn dyed, multi-color peached mini stripe jersey polo features a 3-button placket and self- collar. An Antigua "A" heat transfer logo can be found on the right sleeve. The color combinations can be easily paired with a variety of solid colored shorts Sureshot is available in sizes S - 3X and in four color combinations. The Sureshot Polo is also available for women with an open Y-neck and 2 snaps at the bottom of the placket. Ladies sizes are XS - 3XL.

Ladies also have a lot of fine choices available from Antigua this spring. For starters, the Women's Leader Jacket is perfect for those cool morning and evening rounds of golf, or for just being outside. It's sewn from Antigua's 92% polyester/8% spandex heavy jersey fabric and features a stand up self-collar and full-zip design with a little bit of color contrast inside the collar binding and zipper teeth.. Open on-seam hand pockets keep valuables safe and a bungee/toggle bottom helps create the perfect fit to keep body heat in and cold elements out. You'll also find an embossed "A" logo on the back of the neck, The Leader Jacket is available in sizes XS - 4X and in 8 color combinations.

Two skorts from Antigua that are sure to delight the ladies this year are the Cinch and Enclave Skorts. Cinch lives up to its name and is available in 7 solid colors and 3 floral print patterns. Both feature Desert Dry Xtra-Lite D²XL moisture wicking to keep you cool and dry. These knit jersey skorts have elastic tie detail in the front with shirring and tremendous cinching capabilities. A self-fabric waistband completes the look. Cinch is available in sizes XS - 4XL and will compliment even the most complete golf apparel wardrobe.

Enclave is a go-to Black skort for just about any occasion. The 88% polyester/12% spandex lightweight stretch fabric moves with you through your golf swing. Enclave features front zipper hip pockets to keep valuables safe and secure. It's available in sizes XS - 4XL.
The Illusion Polo features a shiny and dull stripe pattern on an 100% polyester interlock knit fabric treated with a Desert Dry Xtra-Lite D²XL moisture wicking finish. This short sleeve polo has a flat knit collar with a 3-button placket and an open cuff, with some Antigua branding on the right sleeve. The Illusion Polo is available in sizes XS - 4XL and in seven colors.

The Women's Patriot Polo gives ladies the opportunity to dress like their favorite 2017 Solheim Cup teammate; after all, Antigua was the American team's apparel company for that event. The short sleeved Patriot Polo features a self-collar, zippered placket and open cuff. The engineered Stars & Stripes sublimation print on the sleeve and chest panel pays tribute to the Red, White and Blue. You're sure to get some great looks in this great polo. The Patriot Polo is available in sizes XS - 2XL and in either Navy/Dark Red/White or White/Navy/Dark Red. There's an Antigua "A" logo on the right sleeve.

If you are a fan of color blocking, you're going to love Antigua's Propel Polo. It's like two shirts in one: the top yoke is sewn from a 95% polyester/5% spandex fabric while the lower body is a 90% polyester/10% spandex contrast dot pattern jacquard knit. Desert Dry moisture wicking technology keeps you cool and dry all day long and into the night. Propel also features a contrast zipper placket and raglan armholes with sleeves that are a little longer than other Antigua polos. The Propel Polo is available in sizes XS - 2XL and in 7 color combinations. As color blocks go, this is a clear winner!

This is just our take on a few of the pieces available from Antigua this spring. For more information or to see the entire collections, visit www.antigua.com.

Article Tags: Antigua Golf Apparel, Womens golf apparel, mens golf apparel, golf polo, golf skort, Sureshot polo, golf shorts
Revised: 02/21/2019 - Article Viewed 163 Times
About: David Theoret
---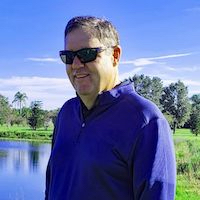 David Theoret has been in the golf and golf travel industry for over 10 years, primarily selling online advertising. For the past seven years, he has also been a golf writer, reviewing golf courses, resorts, destinations, equipment, golf apparel, and training aids - the latter of which never seems to help. David's articles and reviews have been posted on many golf travel and equipment websites.

Growing up in Southwestern Ontario, Canada, it was naturally assumed he would play hockey. Beginning at the age of 3 and continuing into his late 30's, he did just that. However, after one too many pucks to the head, he realized that golf was a lot easier on the body (whoever said hockey players were slow) and took the game up.

After moving to Florida and accepting a position with TravelGolf Media (now part of GolfNow) his love for the game grew exponentially. Most Saturdays you will find him on a course somewhere in Florida or on the practice range reinforcing his bad habits. David plays to a 10 handicap - unless there is money involved in which case it goes considerably higher. He currently resides in Lakeland, FL with his wife Belinda and their two "kids", Madyson and Molly.

---
More Articles by David Theoret
More Related Articles