Share:
Maui Jim Sunglasses
- What's new in 2019!
By David Theoret
Maui Jim recently introduced a new addition to their ever-popular collection of fashion forward sunglasses. Shave Ice as they are known offer a refreshing treat for your eyes. Available in three decadent color combinations, this retro frame is ready to offer unparalleled protection from harmful UV rays with PolarizedPlus2® patented lens technology.

The Black Gloss frame delivers a retro look that best complements square, round, oval or heart shaped faces. They are fitted with Neutral Grey SuperThin Glass Lenses which offers the highest available light reduction and produces the richest colors and sharpest contrast. They are 20% to 32% thinner and lighter than a standard glass lens and offer the best scratch and solvent resistance. A saddle-style fixed bridge gives added comfort.

The Tortoise frames come with HCL® Bronze lenses which offer versatility in changing conditions with a warm tint. They too have SuperThin Glass lenses.

For my money, the Electric Blue frames are the sharpest looking frames Maui Jim offer. Pair them with Maui Jim's Blue Hawaii lenses with SuperThin Glass and you've just put together a great looking pair of shades. The blue mirror coating provides a stylish new look that offers the same amazing color enhancement and clarity as all other Maui Jim lenses. I've found that these are the best sunglasses I have ever found for golf. The lenses are light enough that they don't distort, especially on the greens. In some cases they make reading the green that much easier and allow you to see breaks not visible with other sunglasses.

Another good pair of Maui Jim's for golf are the Big Wave. As the name implies, they offer a lot of coverage. They are available in three frame/lens combinations: Black Matte/Neutral Grey, Translucent Matte Grey/Blue Hawaii and Olive Tortoise/HCL® Bronze. All three use Maui Jim's Maui Pure lens material. It combines optics almost as crisp as SuperThin Glass with ultralight and excellent scratch & shatter resistance. These polarized wrap sunglasses give your eyes and the skin around them the protection they need and deserve. Another pair of sunglasses that are great for golf and offer all of the sun protection you need on the course.


These are just a couple of models Maui Jim offers that I've found to be very beneficial on the golf course, there are so many others. I see things clearer in the bright sunlight thanks to Maui Jim. Check out some of their new styles and colors for 2019 or pick a classic style that has made Maui Jim the "go-to" company in eye protection for years. Either way, you're going to love your new look! Visit www.mauijim.com to see everything Maui Jim has available for a variety of sports.
Article Tags: Maui Jim Sunglasses, Shave Ice, Big Wave Sunglasses, Maui Jim, Golf Sunglasses, Maui Pure lens,
Revised: 04/23/2019 - Article Viewed 1,074 Times
About: David Theoret
---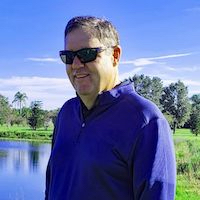 David Theoret has been in the golf and golf travel industry for over 10 years, primarily selling online advertising. For the past seven years, he has also been a golf writer, reviewing golf courses, resorts, destinations, equipment, golf apparel, and training aids - the latter of which never seems to help. David's articles and reviews have been posted on many golf travel and equipment websites.

Growing up in Southwestern Ontario, Canada, it was naturally assumed he would play hockey. Beginning at the age of 3 and continuing into his late 30's, he did just that. However, after one too many pucks to the head, he realized that golf was a lot easier on the body (whoever said hockey players were slow) and took the game up.

After moving to Florida and accepting a position with TravelGolf Media (now part of GolfNow) his love for the game grew exponentially. Most Saturdays you will find him on a course somewhere in Florida or on the practice range reinforcing his bad habits. David plays to a 10 handicap - unless there is money involved in which case it goes considerably higher. He currently resides in Lakeland, FL with his wife Belinda and their two "kids", Madyson and Molly.

---
More Articles by David Theoret
More Related Articles