Share:
Skechers Golf Footwear
- Style Meets Comfort
By David Theoret
You can probably say that Matt Kuchar played a big part in putting Skechers golf footwear on the map, and rightfully so. Skechers shoes are great looking, functional and most of all, extremely comfortable.

Their passion for functionality, style and comfort continues for both men and women. The Women's GO Golf Drive - Shimmer shoes are the perfect example of that style and comfort I'm talking about. Skechers uses an innovative lightweight athletic material along with their Goga Max® Technology insole which offers high-rebound cushioning for all-day comfort. The ULTRA FLIGHT responsive cushioning midsole is super light and the durable rubber traction plate keeps you connected to the ground even in wet weather. Shimmer features a full-grain leather and synthetic upper with micro perforated side panels and a Dri-Lex® moisture wicking lining for breathable comfort. As far as looks, the glitter finish with a contrast colored heel overlay produce a look you won't soon forget and the "S" logo on the side identifies the brand. Shimmer is available in sizes 5.5 - 11 and in either White/Silver or Navy/Pink. Retail prices for Skechers golf footwear remain comparatively low at only $105.

The Ladies GO WALK 2 Sugar golf shoes let you enjoy a classic golf look while enjoying the comfort of Skechers Relaxed Fit; a design with extra room at the toe and forefoot. Sugar features a synthetic, water resistant upper with a heathered finish that is extra durable. The cleated, spikeless outsole provides superior traction and the 5GEN midsole has memory retention and helps absorb impact. Skechers' Goga Mat Technology molds the shoe to your foot for added fit and comfort. The perforated side panels on top of the heathered fabric produce a unique look. GO WALK 2 Sugar golf footwear is available in sizes 5.5 - 11 and in Taupe/Lime, Gray/Blue, or Navy/Pink. Retail price is $80.

Skechers Women's GO GOLF Max - Draw golf shoes provide ladies with an ultra-comfortable design and a sleek versatile look. They too use Skechers' ULTRA FLIGHT midsole cushioning, a GOGA Max Insole and a durable TPU outsole that provides plenty of traction. The Dri-Lex moisture management interior provides water resistant protection that helps keep your feet dry in wet conditions. As far as looks go, this shoe is hard to beat. Draw features a soft mesh floral print fabric and smooth synthetic upper with side stitching and overlay detail trim. The colorful side and fabric-trimmed collar with floral design is sure to turn heads. The GO GOLF Max - Draw golf shoes are available in ladies' sizes 5.5 - 11 and in either Black/Purple or White/Blue. Retail price is $90

Men can wear the same shoes worn by PGA TOUR professional Matt Kuchar. Kuchar helped design the GO GOLF Pro V.4™ - Honors shoe which feature Skechers® H2GO Shield waterproof protection and replaceable Softspikes. The smooth leather and knitted textile upper have a heel lock feature that provides a secure, comfortable fit. The dynamic diamond-design traction plate outsole provides added stability and maximum grip while the ULTRA FLIGHT cushioning and Resamax® cushioned insole only add to the comfort. They may not look it, but these shoes are incredibly lightweight. Skechers' Pro V.4 Honors golf shoes are available in sizes 7.5 - 14 and in Charcoal, Navy and Black/White. Retail price is $150.

Skechers GO GOLF Drive 2 - RF offer the perfect combination of comfort and style. Drive 2 - RF is a sneaker style golf shoe that is perfect for golfers looking for on-course performance and a fashionable, street-wear look. Relaxed Fit design a 5GEN midsole and Goga Mat Technology provide the comfort and a flexible turf cleated outsole keeps your feet firmly anchored on the ground. The smooth faux leather upper has side perforated accents that help keep your feet cool while the H2GO Shield water resistant design helps keep them dry. There's an embossed "S" logo on the side to identify the brand. The GO GOLF Drive 2 - RF is available in sizes 7.5 - 14 and in White/Navy and Charcoal/Blue. Retail price is $90.

These are just a few of the latest offerings from Skechers heading into the fall. For more information or to see other models, head to their website at www.skechers.com.

Article Tags: Ladies GO WALK 2 Sugar golf shoes, Matt Kuchar, Skechers, Skechers GO GOLF Drive 2 - RFGO WALK 2 Sugar golf shoes, GO Golf Drive Shimmer shoes, Golf Shoes, Skechers, Women's GO GOLF Max Draw golf shoes
Revised: 08/17/2019 - Article Viewed 382 Times
About: David Theoret
---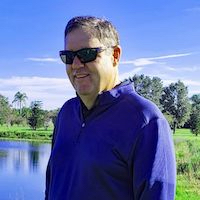 David Theoret has been in the golf and golf travel industry for over 10 years, primarily selling online advertising. For the past seven years, he has also been a golf writer, reviewing golf courses, resorts, destinations, equipment, golf apparel, and training aids - the latter of which never seems to help. David's articles and reviews have been posted on many golf travel and equipment websites.

Growing up in Southwestern Ontario, Canada, it was naturally assumed he would play hockey. Beginning at the age of 3 and continuing into his late 30's, he did just that. However, after one too many pucks to the head, he realized that golf was a lot easier on the body (whoever said hockey players were slow) and took the game up.

After moving to Florida and accepting a position with TravelGolf Media (now part of GolfNow) his love for the game grew exponentially. Most Saturdays you will find him on a course somewhere in Florida or on the practice range reinforcing his bad habits. David plays to a 10 handicap - unless there is money involved in which case it goes considerably higher. He currently resides in Lakeland, FL with his wife Belinda and their two "kids", Madyson and Molly.

---
More Articles by David Theoret
More Related Articles