Share:
TRUE Linkswear
- Golf Footwear Designed For Your Comfort
By David Theoret
Someone mentioned the name TRUE Linkswear and I knew they made golf footwear. Years ago I saw a PGA TOUR pro - Ryan Moore I think it was - wearing them on a televised PGA tournaments. I must admit, I pay attention to what the players wear and when I didn't recognize the shoes he was wearing, my curiosity was piqued.

I did some due diligence and found out that the company has been around now for about 10 years and their motivation is still the same: "holistically designed technical wear, inspired by their adventures, built to adapt to whatever weather, challenge, activity or terrain you are facing." According to their website, what inspired them to get into the business was the same thing that inspired many golf shoe companies at that time: the lack of a comfortable golf shoe, especially for those walking the course. In the process, they changed not only how comfortable a golf shoe can be, but also what it could look like.

TRUE Linkswear really is concerned about your comfort. Their goal is to make a comfortable golf shoe that fits the natural contours of your feet. Their golf shoes are made for walking over 6 miles on a golf course for over 5 hours. To do this there are several constants in all of their designs. The first is a natural width toe box that allows your toes to spread out rather than cramming them together like a common dress shoe. Allowing your toes to spread out promotes better foot strength, traction and balance.

Secondly, since humans weren't born with high heels, TRUE shoes have a natural platform with zero drop that promotes a healthy and comfortable body and increased balance in your gait and in your swing. Thirdly, their thin, flexible soles enhance your feedback from the terrain beneath your feet. And their flexibility allows the shoes to work naturally with your feet. Lastly, with their versatile cushioning and tread, these shoes are so comfortable, you won't want to take them off, even after your round. Sock fit openings, lusciously padded inserts, and cross life tread will make these your favorite new go to shoes.

I recently picked up a couple of pairs of TRUE shoes. The Major is their first TOUR issue shoe and by all accounts their finest crafted performance shoe thus far. The Major is made from tough waterproof leather and is designed to stand up to whatever Mother Nature throws its way. Think of it as playing golf in your favorite pair of sneakers, only with stability and traction that keeps you grounded throughout your golf swing. The shoe bag they come in can be used as a shag bag when you're wearing them. The Major has an 80K Step Dynamic Waterproof and Breathable 2 Year Guarantee and is available in Chestnut Brown, Black, White and Grey.

TRUE's Knit Shoe is like nothing you've ever worn while swinging a golf club. Put them on for an 8 AM tee time and you won't take them off until you turn in for the night. Their ultralight weight and breathable design keeps you comfortable for 18 holes and more while the water repellent treatment beads water on the outer shell and keeps your feet dryer. The one-piece TRUEknit upper stretches and flexes where needed while being stable and strong where golfers need it most. And with the EVA midsole, bouncy PU insert and cross-life gum rubber tread you'll feeling like you're walking on air. These new TRUEknit shoes are available in White, Grey, Black, Charcoal and Navy.

TRUE's newest offering is the TL-01, a premium leather sneaker-style golf shoe that just oozes comfort. Crafted from the finest weatherproof full grain Nappa leather, the TL-01 weighs in at a scant 8.7 oz. providing you the lightest and most comfortable walking shoe yet. TRUE's standard width design molds to the shape of your foot with enough protection to keep your feet dry on damp days. Looks can be deceiving, these shoes have as much grip and traction as any TRUE shoe ever made. The TL-01 is available in Black, White or Grey.

TRUE Linkswear wants you to be happy with your new shoes and offers a risk free 30-day trial. Try them for 30 days and if you're not completely sold out on them, contact the TRUE customer service team and they will arrange to send you a different pair or arrange for a return and full refund.

For more information or to shop the entire line of men's and women's footwear, visit them online at www.truelinkswear.com.

Article Tags: True Golf Shoes, True Linkswear, Men's Golf Shoes, Golf Shoes, New golf shoes
Revised: 09/09/2019 - Article Viewed 486 Times
About: David Theoret
---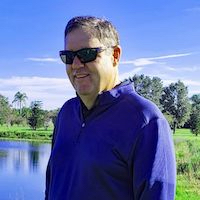 David Theoret has been in the golf and golf travel industry for over 10 years, primarily selling online advertising. For the past seven years, he has also been a golf writer, reviewing golf courses, resorts, destinations, equipment, golf apparel, and training aids - the latter of which never seems to help. David's articles and reviews have been posted on many golf travel and equipment websites.

Growing up in Southwestern Ontario, Canada, it was naturally assumed he would play hockey. Beginning at the age of 3 and continuing into his late 30's, he did just that. However, after one too many pucks to the head, he realized that golf was a lot easier on the body (whoever said hockey players were slow) and took the game up.

After moving to Florida and accepting a position with TravelGolf Media (now part of GolfNow) his love for the game grew exponentially. Most Saturdays you will find him on a course somewhere in Florida or on the practice range reinforcing his bad habits. David plays to a 10 handicap - unless there is money involved in which case it goes considerably higher. He currently resides in Lakeland, FL with his wife Belinda and their two "kids", Madyson and Molly.

---
More Articles by David Theoret
More Related Articles