Share:
Tiger Point Golf Club
- Come For the Golf. Stay for the View!
By David Theoret
As I stood on the first tee at Tiger Point Golf Club in Gulf Breeze, FL, I couldn't believe how much room there was off the tee. Nothing but open fairways - and what looked like little patches of rough: green everywhere as far as the eye could see.

I had just come from a golf trip in the Georgia mountains and Augusta where trees - more specifically tall pine trees - are the order of the day. My hope was that Tiger Point would provide a little bit of a respite from my recent treks through the forests in vain attempts to locate misplaced shots.

Tiger Point Golf Club is situated along the gentle shores of the Santa Rosa Sound in Gulf Breeze, Florida up in the panhandle, and strikes the perfect balance between recreation and challenge. It's literally minutes from the white sand beaches of Pensacola Beach and Navarre Beach. The course was designed by PGA TOUR player and Pensacola resident Jerry Pate and is owned by the City of Gulf Breeze. Tiger Point is managed by Honours Golf, part of the #1 golf course management company in the US, Troon Golf. Since Honours took the course over in 2017, it has thrived. It's municipal golf on steroids with awe-inspiring water views, and an abundance of Florida wildlife, vegetation and fun, playable golf holes.

Tiger Point Golf Club offers players five sets of tees and can be played anywhere from 7,038 yards (with a course rating of 74.9 and a slope of 140) to 5,241 (70.6/124), The day I played, the group I joined played the White tees (6091/70.4/129). It helped out with a few forced caries and made the round quite enjoyable. Pick the tees that best suit your game and you're bound to have a good time. Water comes into play on at least 14 holes and Pate has strategically placed many of the bunkers, especially the ones that come into play off the tee, in or near the landing areas.

There are several holes at Tiger Point that will capture your attention and the stretch from 3 - 6 is quite memorable. Number 3 is a Par 5 that plays 444 yards from the White Tees and for many, offers a great chance for a low score. It's a long dogleg right with water and a lake creating the boundary on the right side. Long ball hitters who are able to hug the right side of the fairway and avoid the water will have a golden opportunity to go for the green in two. Otherwise, playing up the left side with both your tee shot and layup should take the water out of play. Three good shots will have you on the well undulated green, putting for birdie.

Number 4 is a par 3 that plays 164 yards (White tees). It's just about all carry over water; anything short will find either water or sand. The green is very wide, not very deep and well undulated.

Number 5 is Tiger Point's signature hole and features an Island green. Although the hole plays 379 yards, most players will be able to hit driver off the tee and still have a short iron or wedge into the green.
Number 6 is a long and straight par 4 that plays 413 yards from the Blue Tees. There's water running down both sides of the fairway so accuracy off the tee is a necessity if you want to score well. The green is well elevated and slopes back to front with bunkers on either side. The aforementioned water can easily come into play if you mishit your approach shot.

Number 11 is another challenging par 4 that plays 375 yards from the White tees. It's a slight dogleg left; the ideal tee shot is down the right side, avoiding the large fairway bunker. Success off the tee will leave a long to mid-iron in to a small green protected by a deep bunker front left.

Tiger Point is also a great place to fine tune your game at their practice facility which includes a driving range, putting and chipping greens. Should you find yourself with a problem you can't figure out, the talented and knowledgeable instructional staff will take a personal interest in helping you fix whatever ails you or help you take your game to the next level. Whether you're just learning the game or a seasoned veteran whose game just needs a little fine tuning, they're there to help. As a member, you'll have unlimited access to their private practice facility for where you can improve your swing with driving, putting, and chipping areas.

After your round, be sure to stop by the Sunset Grille located inside the clubhouse. The culinary team creates a savory blend of local seafood and southern cuisine, all served with a health helping of southern hospitality. For an appetizer, I tried the Pork Egg Roll and was pleasantly surprised. The wrap was light and flaky and the filling delicious. My lunch entrée was a Philly Cheesesteak, thinly sliced ribeye steak with provolone cheese, sautéed onions, green peppers, and mushrooms, all served on a toasted hoagie roll. Tiger Point's Club Sandwich is no ordinary club sandwich. Oh, sure it's your standard club sandwich: oven roasted turkey, black forest ham, apple-wood bacon, Swiss cheese, lettuce, tomato on wheat bread - but order it with fries and it's enough for two people. Of course, they also have a selection of draft beers on tap and all of your favorite adult beverages. The Sunset Grille is open daily from 11:00 a.m. to 8:00 p.m., with food served until 8:00 p.m. They serve dinner on Wednesday and Friday evenings with dishes ranging from hamburgers to prime rib to fish and chips. It's a meal worth having - at least once!

Tiger Point gives you a couple of options when it comes to playing their course, as a daily fee player or as a member. As a daily fee player, tee times can be booked online on the Tiger Point website. A membership at Tiger Point Golf Club gets you full access to the entire facility, allowing you to play one of the most beautiful Florida golf courses on the gulf. There are several membership levels (Individual, Family, and Corporate), each offering a variety of benefits and options to suit you and your family's every need with no initiation fee or food and beverage minimum, advanced tee time reservations, unlimited access to practice facilities and charging privileges. But perhaps the biggest benefit is that it entitles you to discounts and special deals at a number on other Honours Golf/Troon courses around the country. And if you travel, there is bound to be a Troon-related course wherever you go.

Tiger Point is a must play if you find yourself in the Pensacola area; not only for the golf, but also for the views. For more information or to book your next round, give them a call at (850) 932-1333 or visit them online at www.tigerpointgolf.com.

Article Tags: Tiger Point Golf Course, Golf in Floridaa, Florida Golf Courses, Honours Golf courses, Troon Golf Courses, Golf in Gulf Breeze Florida
Revised: 02/12/2020 - Article Viewed 403 Times
About: David Theoret
---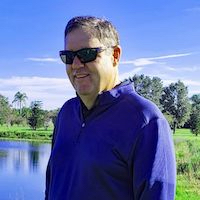 David Theoret has been in the golf and golf travel industry for over 10 years, primarily selling online advertising. For the past seven years, he has also been a golf writer, reviewing golf courses, resorts, destinations, equipment, golf apparel, and training aids - the latter of which never seems to help. David's articles and reviews have been posted on many golf travel and equipment websites.

Growing up in Southwestern Ontario, Canada, it was naturally assumed he would play hockey. Beginning at the age of 3 and continuing into his late 30's, he did just that. However, after one too many pucks to the head, he realized that golf was a lot easier on the body (whoever said hockey players were slow) and took the game up.

After moving to Florida and accepting a position with TravelGolf Media (now part of GolfNow) his love for the game grew exponentially. Most Saturdays you will find him on a course somewhere in Florida or on the practice range reinforcing his bad habits. David plays to a 10 handicap - unless there is money involved in which case it goes considerably higher. He currently resides in Lakeland, FL with his wife Belinda and their two "kids", Madyson and Molly.

---
More Articles by David Theoret