Share:
The Original Penguin
- Attention Ladies, This Penguin's For You!
By David Theoret
If you play golf and like to look good while you play, then you may be familiar with Penguin Pete. If you are like me, you first encountered Pete gracing the polo shorts of golfers such as Arnold Palmer and Jack Nicklaus back in the 1970s. Back then, the brand was known as Munsingwear and was extremely popular.
After several years on hiatus, Perry Ellis International resurrected Penguin - now known as The Original Penguin - and introduced a women's golf apparel line which the ladies are flocking to!

The company tips the scales with their Veronica and 3D Veronica Polo, two garments with similar names that are quite different. The Veronica is sewn from a 95% Cotton/5% Spandex pique fabrication with raised parallel cords that creates an incredibly unique texture. With just a hint of extra stretch, you will be set for a day on the links. The self-collar, 4-button placket, and short sleeves are all trimmed with matching piping. The Veronica Polo is available in sizes XS - 2XL and in three vibrant colors: Deep Lake, Ballad Blue, or Coral Sands.

The 3D Veronica Polo has a totally different look and feel. First of all, it is sewn from an interlock knit fabrication with a little added stretch and a very soft to the touch feel thanks to the 65% Pima Cotton/35% Cotton fabric. What sets this ladies polo apart is the tri-color 3D contrast tipping that adds eye-catching detail to the collar, cuffs and placket. The Original Penguin logo, Penguin Pete graces the left chest of both models. The 3D Veronica Polo is available in sizes XS - 2XL and in either Dark Sapphire or Bright White. Either of these polos is a great choice to go with either slacks or jeans.

As the golf dress makes a comeback, Penguin's Tipped Birdseye Polo Dress is designed to turn some heads and elevate your look. This short sleeve dress is crafted from a pique Birdseye fabric that gives it a subtle texture. The 95% Cotton/5% Elastane fabric has a little extra stretch to help get you through your golf swing and look good at the same time. The 3-button placket and tipped self-collar creates the classic golf look. Once again, there is an Original Penguin Pete logo on the left chest. The Tipped Birdseye Polo Golf Dress is available in sizes XS - 2XL and in three soft feminine colors: Parfait Pink, Dark Sapphire, or Bright White.

The Original Penguin's women's apparel line is currently limited but continues to evolve, based on sales. Want more to choose from? Buy a few pieces; they will make more! You can see the entire line at www.originalpenguin.com

Article Tags: Original Penguin, Munsingwear, Pete the Penguin, men's golf polo, men's golf pants, Men's golf shorts, Women's golf apparel, golf polo
Revised: 05/04/2020 - Article Viewed 283 Times
About: David Theoret
---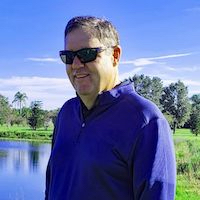 David Theoret has been in the golf and golf travel industry for over 10 years, primarily selling online advertising. For the past seven years, he has also been a golf writer, reviewing golf courses, resorts, destinations, equipment, golf apparel, and training aids - the latter of which never seems to help. David's articles and reviews have been posted on many golf travel and equipment websites.

Growing up in Southwestern Ontario, Canada, it was naturally assumed he would play hockey. Beginning at the age of 3 and continuing into his late 30's, he did just that. However, after one too many pucks to the head, he realized that golf was a lot easier on the body (whoever said hockey players were slow) and took the game up.

After moving to Florida and accepting a position with TravelGolf Media (now part of GolfNow) his love for the game grew exponentially. Most Saturdays you will find him on a course somewhere in Florida or on the practice range reinforcing his bad habits. David plays to a 10 handicap - unless there is money involved in which case it goes considerably higher. He currently resides in Lakeland, FL with his wife Belinda and their two "kids", Madyson and Molly.

---
More Articles by David Theoret
More Related Articles