Share:
Skechers Spring 2020
- Great Looking Golf Footwear That Won't Let You Down
By David Theoret
Anyone who owns a pair of Skechers shoes has undoubtedly remarked many times about how comfortable they are. Skechers seem to envelop your foot, making walking effortless and tireless.

That same feeling shines through in the golf footwear Skechers makes for men and women. Two of their ne offerings for women for the Spring of 202 are the GO GOLF Elite V.3 - Deluxe and the GO GOLF Walk Sport - Bloom Relaxed Fit.

The Go Golf Elite V3 - Deluxe is an all-new waterproof shoe with a spikeless-designed traction outsole for stability on the tee and the green. The upper is made from soft, supple leather with an embossed design and Skechers H2GO Shield waterproof finish. The low drop design helps to keep your foot low to the ground at address and the heel lock design provides a secure and stable fit. Skechers is all about comfort and this shoe has lightweight, responsive 5Gen cushioning as well as a Goga Max cushioned insole. The tongue and collar are padded for even more comfort. The translucent spikeless TPU traction outsole will keep you glued to the ground during your golf swing and there's a "S" logo on the side. The GO GOLF Elite V.3 - Deluxe is available in sizes 5.5 - 11 and in Black and White.

For a sportier, more feminine look, the GO GOLF Walk Sport - Bloom Relaxed Fit shoe is an excellent choice It takes one of Skechers classic walking shoe designs and applies it to golf. The upper is crafted from a soft woven heathered jersey mesh fabric upper with floral embroidery detail and is treated with a water repellent finish. Several Skechers comfort features can be found in the GO GOLF Walk Sport - Bloom shoe including high-rebound cushioning with responsive feedback, a Goga Max insole and ResaGrip midsole cushioning. The Relaxed Fit design has a roomy and comfortable fit at the toe and forefoot. The turf cleated spikeless outsole provides a good connection between your foot and Mother Earth. There's a colorful floral embroidery design on the side, heel and tongue panels that creates a unique look. The GO GOLF Walk Sport - Bloom Relaxed Fit shoe is available in sizes 5.5 - 11 and in either White/Navy or Black/White.

Designed and worn by our very own, If Skechers GO GOLF Pro V.4 golf shoes are good enough for Matt Kuchar, rest assured they can help your game too. This classic Skechers design features a smooth, full grain leather upper treated with H2GO Shield waterproof protection. The ultra-lightweight, responsive ULTRA FLIGHT cushioning and high-performance Resamax cushioned insole create comfort beyond imagination. The diamond-design traction plate outsole features replaceable Softspikes which ensures maximum grip and the side stitching detail trim and familiar "S" logo on the side identify the brand. The GO GOLF Pro V.4 golf shoes are available in sizes 7.5 - 14 and in either White or Black. Now you can look like a pro and - with any luck - play like one too!

Another great looking men's shoe from Skechers is the GO GOLF Mojo Elite which combines a sleek, sporty look with the ultimate in traction and comfort. The smooth full grain leather and textile upper has been treated with H2GO Shield waterproof protection and carries a two year warranty. The perforated side panels create a cooling airflow ULTRA GO cushioning and a Resamax cushioned insole provide the comfort and Skechers all-new GRIPFLEX spikeless TPU outsole keeps you connected to the ground. The Skechers GO GOLF Mojo Elite is available in sizes 7.5 - 14 and in four colors: Navy/Lime, Black/Red, Charcoal/Blue, or White/Gray.

To see the entire Spring 2020 golf footwear lineup from Skechers, visit www.skechers.com.

Article Tags: Skechers, Skechers Go Golf, Women's Golf Shoes, Men's golf, Pro V.4, Bloom Golf Shoes shoes, Skechers Golf Apparel
Revised: 06/24/2020 - Article Viewed 273 Times
About: David Theoret
---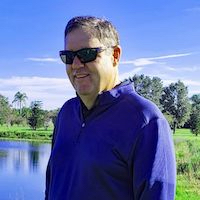 David Theoret has been in the golf and golf travel industry for over 10 years, primarily selling online advertising. For the past seven years, he has also been a golf writer, reviewing golf courses, resorts, destinations, equipment, golf apparel, and training aids - the latter of which never seems to help. David's articles and reviews have been posted on many golf travel and equipment websites.

Growing up in Southwestern Ontario, Canada, it was naturally assumed he would play hockey. Beginning at the age of 3 and continuing into his late 30's, he did just that. However, after one too many pucks to the head, he realized that golf was a lot easier on the body (whoever said hockey players were slow) and took the game up.

After moving to Florida and accepting a position with TravelGolf Media (now part of GolfNow) his love for the game grew exponentially. Most Saturdays you will find him on a course somewhere in Florida or on the practice range reinforcing his bad habits. David plays to a 10 handicap - unless there is money involved in which case it goes considerably higher. He currently resides in Lakeland, FL with his wife Belinda and their two "kids", Madyson and Molly.

---
More Articles by David Theoret
More Related Articles